Home
REDUCTION OF MLADIC'S INDICTMENT ACCEPTED
The Trial Chamber accepted the prosecution's proposal to reduce the indictment against former commander of the VRS Main Staff Ratko Mladic. The Trial Chamber decided that the 106 incidents for which Mladic would be tried were 'representative' of the accusations against the former commander of the VRS Main Staff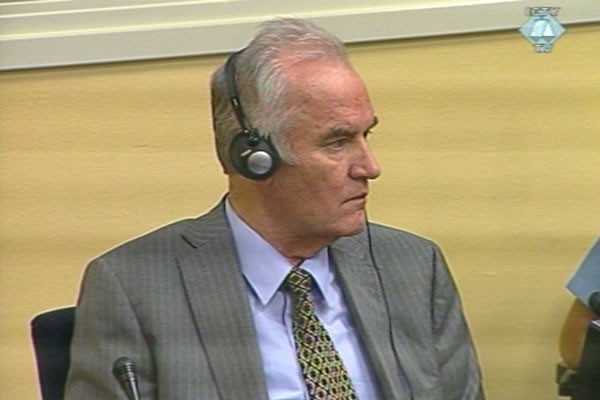 Ratko Mladic in the courtroom
The Trial Chamber in charge of Ratko Mladic's case has accepted the prosecution's proposal to reduce the indictment charging the former commander of the VRS Main Staff with ethnic cleansing in BH municipalities, terror in Sarajevo, genocide in Srebrenica and taking UN staff hostage. The Trial Chamber concluded that the incidents listed in the prosecution's latest proposal were 'representative' of the accusations against Mladic.
According to the prosecution's proposal, Mladic will be tried for 106 instead of the 196 incidents in the original indictment. The crimes Mladic is charged with in the 'reduced' indictment were committed in 15 municipalities in Bosnia and Herzegovina: eight municipalities less than in the original indictment. In the opinion of the Trial Chamber, the reduction of the number of incidents and crime sites is 'in the interest of a fair and expeditious trial'.
The judges also decided that the prosecution couldn't call evidence on the crimes committed at the sites not listed in the indictment unless 'such evidence is necessary to establish an element of any of the counts in the indictment'. If the prosecution decides to call such evidence, it must explain why it is relevant for the case. The Trial Chamber specified that Mladic couldn't be convicted of the incidents dropped from the indictment.
The decision also states that the judges first expected the prosecution not to call evidence on individual crimes in Kalinovik and Kotor Varos municipalities, just as it was done at Radovan Karadzic's trial. Since the prosecution has reduced the indictment against Mladic to a greater extent than the one against Karadzic, the Trial Chamber decided not to insist on dropping the charges related to the municipalities of Kalinovik and Kotor Varos.
The prosecution has two weeks to submit an amended indictment and a new list of victims of the incidents Mladic is charged with.