Home
MLADIC RESPONDS TO PROPOSAL TO REDUCE INDICTMENT
Ratko Mladic's defense counsel contends it is not up to the defense to present its views on the prosecution's proposal to reduce the indictment. Mladic's defense is concerned about the prosecution's request to be allowed to call evidence about the incidents dropped from the indictment, when necessary to establish "mens rea of the accused". This reduction will not reduce the time the defense will need to answer the prosecution case, the defense argues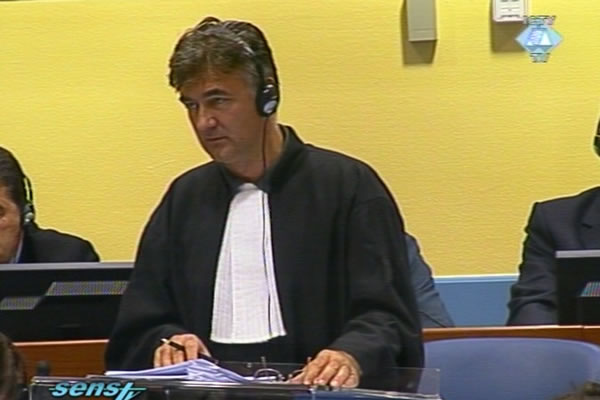 Branko Lukic, defence attorney of Ratko Mladic
Branko Lukic, Ratko Mladic's defense counsel, contends that it is not up to the defense to state its views on the prosecution's proposal to reduce the indictment. Branko Lukic quoted the rule which show that the prosecution and the Trial Chamber play the "main role" in this procedure. The former commander of the VRS Main Staff faces charges of genocide and other crimes in Bosnia and Herzegovina.
On 18 November 2011, in line with an order of the Trial Chamber, the prosecution submitted its proposal to reduce the indictment against Mladic. The prosecution proposed to cut down significantly the number of incidents listed in the indictment but to retain all the counts and the substance of the accusations. The prosecution intends to call evidence on Mladic's responsibility for all four components of the indictment: ethnic cleansing in 15 BH municipalities, terror campaign in Sarajevo, taking UN hostages in May and June 1995 and the genocide in Srebrenica in July 1995.
Despite its intention not to take a stand on the proposed amendments, the defense presented its position regarding the prosecution's request to be allowed to present evidence related to the incidents dropped from the indictment, when necessary to establish "mens rea of the accused". If the Trial Chamber grants this request, the defense will have to contest this evidence and the time needed to cross-examine prosecution witnesses and present Mladic's case wouldn't be significantly decreased. The indictment should clearly inform the accused as to what the charges against him are so that he can respond to that, the defense stated.
If the Trial Chamber decides to allow the prosecution to call evidence on the incidents left out from the indictment, the defense wants this evidence to be limited to the corroboration of facts and the establishment of a 'pattern of conduct of the accused', but provided this evidence does not lead to a 'conviction of the accused' for the crimes removed from the indictment. The defense also demanded for an estimate from the prosecution as to when it would call such evidence and to allow the accused to present additional arguments and enter additional objections.
The defense urged the Trial Chamber to bear in mind that the 'reduction will not decrease the work" required of the defense to rebut the prosecution case, to cross-examine witnesses and to present its case.