Home
RATKO MLADIC TO UNDERGO MEDICAL CHECKUP
The Trial Chamber ordered the ICTY Registrar to organize a medical examination of Ratko Mladic. The medical examination should assess Mladic's current medical condition and, if possible, list of health problems Mladic has had prior to his arrival in The Hague together with their influence on current medical status of the accused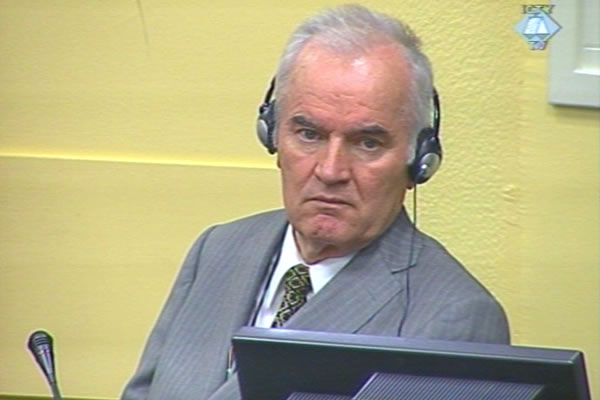 Ratko Mladic in the courtroom
Today, Judge Orie's Trial Chamber ordered the Registrar to organize a 'complete medical examination' of the former Bosnian Serb army commanderRatko Mladic. The decision was made after the issue of the health of the accused had been 'informally raised' several times, and more importantly, because of Mladic's 'apparent inability' to attend the last status conference on 10 November 2011 because of his health problems.
The report on the physical and mental condition of the accused, the decision goes on to specify, will help the Trial Chamber to assess if, and to what extent, Mladic's health status will affect the preparations for the trial. Ratko Mladic faces charges of double genocide and other crimes in the war in BH.
The decision states that the medical report should contain the findings on the current health status of the accused, including his overall health condition and listing all the specific problems and their impact on Mladic's physical and mental health. The physicians who will examine him should list the treatments Mladic has received since his arrival in the Detention Unit to the present.
The second part of the report should include Mladic's 'medical history': all previous information from the 'original sources' on the health of the accused prior to his arrival in The Hague. The report should also contain an evaluation of the 'Accused's medical history' by the same expert who will examine him now. In the report, the expert should state 'whether and to what extent' the current overall health condition of the accused is related to his previous health problems.
The Registrar was ordered to submit the report as soon as it is completed, but not later than 6 December 2011.