Home
PROSECUTION CONSIDERS REDUCING INDICTMENT AGAINST MLADIC
The prosecution will not appeal against the decision of the Trial Chamber not to allow the severing of the indictment against Ratko Mladic into two parts, chief prosecutor Serge Brammertz said as he met with the foreign correspondents accredited in Holland. Brammertz indicated that various options were under consideration to 'reduce' the case against the former commander of the VRS Main Staff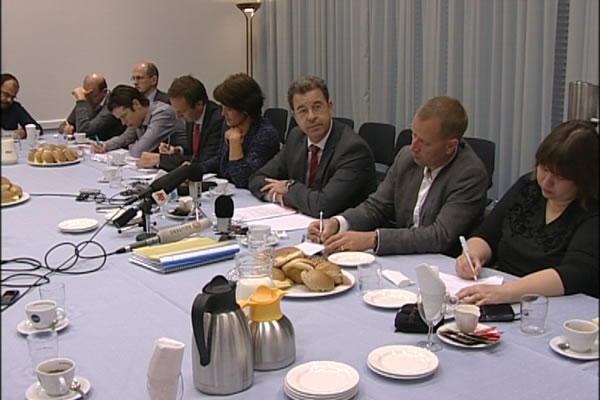 Serge Brammertz at the working lunch with journalists
As he talked to the representatives of the press at the traditional 'lunch with the chief prosecutor' organized by the Foreign Press Association in The Hague, Serge Brammertz said that the prosecution would not appeal against the decision of the Trial Chamber dismissing the motion to sever the indictment against Ratko Mladic. The judges decided there 'are no legal grounds for the appeal'. The decision of the judges not to allow the indictment to be severed into two parts 'shows that their opinion differs from ours, but differing opinions are not legal grounds for an appeal', Brammertz added.
The future strategy of the prosecution in the case against Ratko Mladic hasn't yet been decided. Brammertz and his team are currently considering various options to 'reduce' the indictment. The indictment charges Mladic with genocide and other crimes in several BH municipalities, the siege and terror campaign in Sarajevo, taking UN staff hostage and the genocide in Srebrenica in July 1995.
It is difficult to find a formula to reduce the indictment without diminishing 'the importance and magnitude' of the crimes the accused is charged with, the chief prosecutor said. Brammertz confirmed that the prosecution would not drop any of the four segments in their entirety.
In mid-November 2011 the chief prosecutor will submit his regular biannual report to the UN. The issue of cooperation of the states of the former Yugoslavia with the Tribunal remains extremely important, Brammertz emphasized. Though there are no accused out of the Tribunal's reach, the OTP still regularly sends requests seeking access to documents to the local authorities. At the same time, the Tribunal sends to the local judiciaries documents pertaining to the crimes whose perpetrators will not be prosecuted in The Hague but before domestic courts in the region. More than 500 requests have already been submitted to the Office of the Prosecutor in The Hague by the local judiciaries in the region. Nevertheless, as Brammertz noted, the political leaders in the region in their public appearances do not always support this cooperation. Politicians are responsible for the fact that a significant portion of the population in the region doesn't support the Tribunal and isn't 'properly informed' about its work, Brammertz said.