Home
PROSECUTOR WANTS JUDGES TO DOUBLE SESELJ'S SENTENCE
Prosecutor amicus curiae wants the judges to increase Seselj's sentence from 18 months to three years in prison for the charges of disclosing the identities of protected witnesses. In his appeal, the prosecutor amicus curiae states that the Serbian Radical leader should serve his sentence 'consecutively' rather than 'concurrently' with the previous 15-month sentence Seselj received in the trial on the first indictment that contained similar charges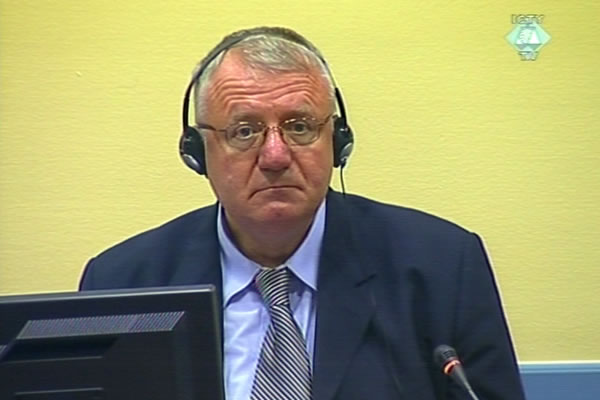 Vojislav Seselj u sudnici Tribunala
In his appeal against the 18-month sentence Vojislav Seselj received for contempt of court, prosecutor amicus curiae Bruce McFarlane has made two requests. First, he wants the judges to increase the sentence from 18 months to three years. Second, McFarlane does not want Seselj to serve his sentence 'concurrently with the 15-month sentence' the Serbian Radical leader received in the first contempt of court trial, as the judges decided in their sentencing judgment. The first contempt of court indictment alleged that Seselj disclosed confidential information about the identity of three protected witnesses in one of his books. At the second contempt of court trial, Seselj was charged with the same crime: that time, he published the identities of 10 protected witnesses.
The prosecutor contends that the 18-month sentence was 'manifestly inadequate' and he wants the judges to double it. Furthermore, as he claims, the sentence, its length aside, cannot be served concurrently with the previous prison sentence because, according to his interpretation of the Tribunal's Rules, it has already been served. More than 15 months passed from May 2010, when the first contempt of court judgment was confirmed on appeal, to October 2011 when the second contempt of court judgment was handed down.
It is unclear if the Canadian amicus curiae prosecutor has interpreted the rules correctly in this case. After the first judgment for contempt of court was rendered, it was indicated that the Trial Chamber would decide on how the sentence would be served after the judgment at Seselj's main trial for crimes against humanity in Croatia, Vojvodina and BH. The closing arguments in this trial have been scheduled for March 2012.
In the meantime, the Serbian Radicals' leader has been indicted for the third time for contempt of court because he has refused to withdraw from his website the books and documents that led to the two previous convictions.