Home
SESELJ'S COMMUNICATIONS WILL BE MONITORED
The Tribunal's Registrar decided to monitor the communications between the Serbian Radicals' leader and his legal advisors for a period of 30 days, because there are 'reasonable grounds to believe that Seselj has abused privileged communications in an attempt to interfere with or intimidate witnesses' and 'to facilitate the disclosure of confidential material on his website'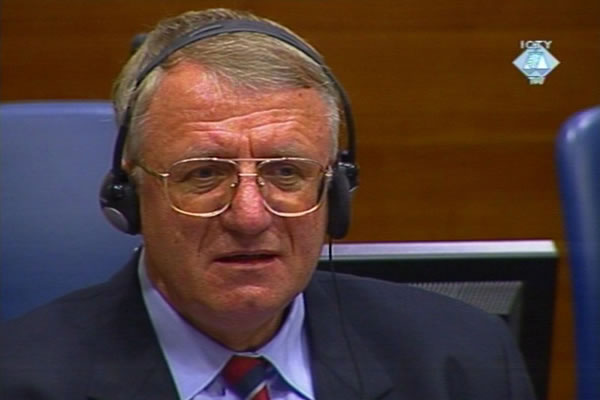 Vojislav Seselj in the courtroom
The Tribunal's Registrar notified Vojislav Seselj that for 30 days his communications with his team of legal advisors would be monitored, according to the press release published by the Tribunal's spokesperson Nerma Jelacic. The decision was issued because there were 'reasonable grounds to believe that the accused has abused privileged communications in an attempt to interfere with or intimidate witnesses and obstruct justice'. Monitoring will begin forthwith, according to the press release.
The accused Serbian Radical leaders has the right to have 'unmonitored communication' with his legal team, as has any other accused. However, when there are reasonable grounds to believe that this right is abused, the communications can be monitored. There were such grounds in this case, the Registrar explains in his letter to Seselj. The accused is suspected of having abused the privileged communications to 'facilitate the disclosure of confidential material on his website, in violation of judicial orders thereby interfering with the administration of justice".
Seselj will be able to communicate with his 'official legal advisors' – mainly his associates from the Serbian Radical Party – 'through visits, telephone calls and correspondence' but this communication will be monitored, the Registrar explained in the letter. After 30 days, the Registrar will review his decision and the accused has the right to appeal to the President of the Tribunal.
Seselj's communication has already been denied the right to privileged communications a few times: the first time was in late 2003 and early 2004, before the parliamentary elections in Serbia and in their aftermath. The Tribunal decided that Seselj and Slobodan Milosevic in their statements 'undermined the mandate of the Tribunal to contribute to the establishment and maintenance of peace in the former Yugoslavia'. On the second occasion, Seselj's communications were monitored for several months in 2008 because there were 'reasonable grounds to believe that the right to privileged communications granted for the purpose of the preparation of his defense in the UN Detention Unit could be abused for the purpose of influencing or intimidating witnesses'.
Vojislav Seselj is charged with crimes against non-Serbs in Croatia, Vojvodina and BH. During the trial, Seselj has been "slapped with" three additional indictments for contempt of court after he published information about protected witnesses in his books and on his website and for refusing to withdraw this information. He was sentenced to 15 months in prison when he was convicted of contempt of court on the first indictment. The judgment on the second contempt indictment will be handed down on Monday morning. Next Friday Seselj will enter his plea to the charges in the third contempt of court indictment.