Home
BRAHIMAJ WAS 'NO. 1' IN JABLANICA
A protected prosecution witness who was detained and tortured for three days in the KLA camp in Jablanica in the summer of 1998, claims the accused Lahi Brahimaj was 'No. 1' there. The defense has tried to discredit the witness, saying he 'made false accusations' against Brahimaj who had shamed the witness before the residents of his village, when he accused the witness of stealing and selling a Kalashnikov rifle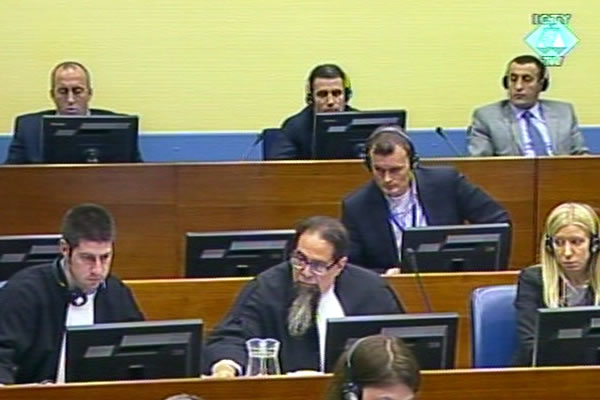 Ramush Haradinaj, Idriz Balaj and Lahi Brahimaj in the courtroom
The testimony of a protected witness testifying under the pseudonym 3 continued today at the trial of Ramush Haradinaj, Idriz Balaj and Lahi Brahimaj for the most part in closed session. The three former commanders of the Kosovo Liberation Army are charged with crimes against the detainees in the Jablanica camp in 1998.
The witness said yesterday that Lahi Brahimaj took him to Jablanica in July 1998. He spent three days in the prison where the alleged Albanian traitors were held. He was severely beaten in order to confess that he had been helping the Serbian forces in the attack on the village of Veliki Djurdjevik. The witness recounted how he fled the Jablanica prison, only to be rearrested by Lahi Brahimaj who took him to the KLA headquarters in Glodjan, which was under the command of Ramush Haradinaj. He was beaten again and then Haradinaj ordered his release.
At the end of the examination-in-chief, the witness confirmed he saw Brahimaj and four or five people in uniform, two of whom were armed at the property where he was detained. As the witness said, 'as far as I am concerned', Lahi Brahimaj was 'No. 1' there. 'Many people mentioned' Brahimaj; he organized the defense of the village and issued orders. 'Brahimaj may not have been No. 1 in actual fact, but to my mind, he was', the witness added.
At the beginning of the cross-examination, defense counsel Harvey put it to the witness that he 'went over the top' and 'made false accusations' against Brahimaj. The witness dismissed the claim, saying he was 'telling the truth'. As he said, 'my body still feels the consequences of what happened there'. The defense lawyer then put it to the witness that he 'shifted the blame' on Brahimaj because he 'put [the witness] in an uncomfortable situation' when he accused the witness of 'stealing and selling the Kalashnikov'. The witness again denied the claim. The rest of the cross-examination by Brahimaj's defense proceeded in closed session.
As he was examined by Haradinaj's defense counsel Emmerson, Witness 3 said that the two young men in the KLA headquarters in Glodjan treated him 'correctly', 'perhaps with more respect than I deserved', since he had been brought there accused of being 'a traitor'. They gave him 'food, cigarettes and a safe place to sleep' and promised he would be taken to his relatives the next day. Ramush Haradinaj treated him the same way, too. He advised the witness to 'forget what happened, go back to his family and stay away from the KLA'. Once he heard Haradinaj say that, the witness said, he 'knew nothing bad would happen to me". This 'proved to be the case', the witness said, confirming the defense lawyer's suggestion, because 'once I caught Haradinaj's eye, I was safe'.
Witness 3 will continue his evidence tomorrow; he will be re-examined by the prosecutor.