Home
PROTECTED WITNESS TESTIMONY ENDS ABRUPTLY
At the trial of the former KLA commanders, the evidence of the protected witness was suddenly interrupted after the first break because the witness failed to return to the courtroom. The protected witness saw prisoners in the Jablanica prison camp in the spring of 1998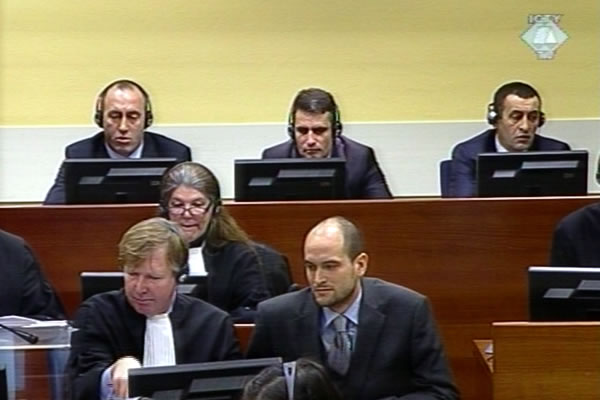 Ramush Haradinaj, Idriz Balaj and Lahi Brahimaj in the courtroom
A protected prosecution witness testifying under the pseudonym 81 and his five fellow fighters were ordered by their commander to go to the KLA headquarters in Jablanica. There they joined Lahi Brahimaj's unit 'to support them'. Lahi Brahimaj, Ramush Haradinaj and Idriz Balaj are charged with crimes against Serbian, Albanian and Roma prisoners at this location in 1998. The names of the commander, the army and the unit the witness belonged to were not disclosed to protect the witness's identity. It is interesting to note that the witness responded to the prosecutor's questions in Serbian.
The witness said he and his fellow fighters were sent to Jablanica in May or June 1998; they were met by a KLA member by the name of Idriz Gashi. They spent the night in one of the four rooms in a single-storey house where, the indictment alleges, the KLA headquarters was located. The next day, they met a person who introduced himself as Maxhup. The witness later learned that he was in fact Lahi Brahimaj.
As the witness said, Maxhup brought him to a basement where six or seven prisoners were held. The prisoners were standing in water about 20 to 30 cm deep. The witness described that the prisoners were tied up, dirty and had visible bruised on their bodies. The prisoners were three younger men, two Roma and a Serb, and three or four elderly persons whose identities the witness didn't know. Two of them were women. To explain why he didn't ask Maxhup why they were held in the basement in such poor conditions, the witness said that a person who had just arrived in Jablanica couldn't ask their 'host' questions just like that.
Soon afterwards, the only Serb prisoner was taken out of the basement and was brought to the room where Brahimaj, another KLA member, the witness and one of the soldiers that accompanied the witness were. As the witness recounted, Brahimaj questioned the prisoner about the locations of check points and units of the Serbian army and the police. The prisoner stood in front of him; he was tied up. The interview took about 30 to 45 minutes, the witness explained. After that the Serb prisoner and the two Roma were taken out to the yard.
At that point, the judges called the first break of the day. The prosecutor indicated she would move on to another topic in her examination. She never got to do it, because the witness didn't appear in the courtroom following a 40-minute break. No explanation was given. Presiding judge Moloto said that 'it is not certain how serious the situation is', adding that the hearing might continue today. It did not.
According to the existing schedule, the trial should continue tomorrow morning, but this will depend on whether the witness will be able to return to the courtroom.