Home
AMICUS CURIAE: NO GROUNDS FOR CONTEMPT CASE AGAINST CARLA DEL PONTE AND HER PROSECUTORS
A public redacted version of the report drafted by an independent 'amicus curiae' was disclosed after the Trial Chamber ordered him to investigate if there were 'sufficient grounds' to initiate contempt of court proceedings against the former chief prosecutor Del Ponte and 'members of the prosecution team' based on the allegations that they intimidated witnesses in a bid to make them testify against the Serbian Radicals' leader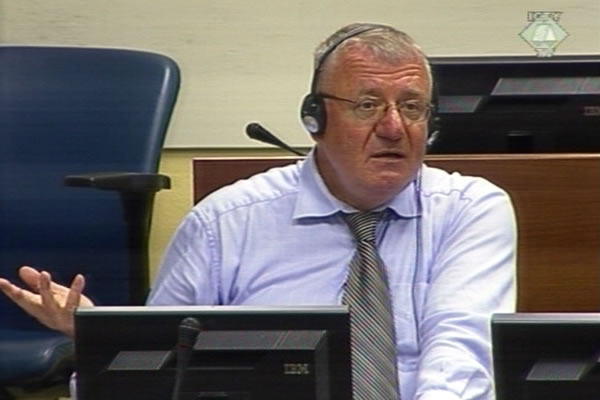 Vojislav Seselj in the courtroom
The Tribunal disclosed this evening a public redacted version of the classified report filed by an amicus curiae whose identity remains unknown; the amicus curiae was ordered by the Trial Chamber to investigate whether 'there are sufficient grounds' for contempt proceedings against Carla Del Ponte and 'some members of the prosecution team' based on the allegations that they allegedly intimidated, blackmailed, bribed and even tortured witnesses in order to make them testify against the accused Serbian Radicals' leader Vojislav Seselj.
In March 2007, Seselj filed a motion in which he asked the judges to initiate contempt of court proceedings against the former chief prosecutor Carla Del Ponte and prosecutors Hildegard Uertz-Retzlaff and Daniel Saxon. Seselj claimed that they 'pressured and intimidated witnesses' in an attempt to obtain statements against him. Seselj appended to his motion statements of witnesses who claim that during their interviews with the OTP staff, they were 'deprived of sleep', 'blackmailed', 'threatened' and that money, new identity and relocation to third countries were offered in exchange for their statements. One of the witnesses contends that he was offered the service of 'young dancers' at the Tribunal's expense.
On 29 June 2010, the Trial Chamber of French judge Antonetti ordered the ICTY Registry to appoint an independent investigator acting as 'amicus curiae' to investigate the allegations of the accused and the claims of 'Chetnik insiders' who first agreed to testify for the prosecution and then changed their minds. The amicus curiae was given six months to investigate and submit a report on his findings to the Trial Chamber.
Since the order to conduct an investigation was public, the Trial Chamber decided to disclose a redacted version of the confidential report drafted by the amicus curiae. The name of the amicus curiae was also redacted. A detailed 240-page report concluded finally that there 'are no sufficient grounds' to initiate contempt proceedings against any of the persons identified in both the motion filed by the accused and the witness statements which Seselj used to corroborate his accusations.
The prosecution and the accused were invited to submit their written responses to the report of the independent investigator amicus curiae within 15 days.