Home
PROSECUTOR: DEFENSE EXPERT 'SERB NATIONALISM APOLOGIST'
Military expert called by Stojan Zupljanin's defense is 'an open advocate and apologist of Serb nationalism', using 'non-scientific methods' and presenting 'uncorroborated' claims in his report, the prosecutor contends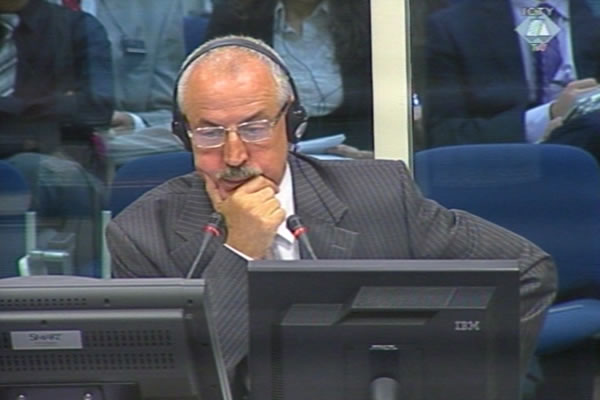 Vidosav Kovacevic, defence witness of Stojan Zupljanin
Defense expert Vidosav Kovacevic is 'an open advocate and apologist of Serb nationalism', prosecutor Joanna Korner said in her cross-examination of the military expert called by Stojan Zupljanin's defense. The former chief of police in the Banja Luka region is on trial together with Mico Stanisic, the first Bosnian Serb interior minister, for crimes against Croats and Muslims in 1992 throughout BH.
The prosecutor insisted that the witness used 'non-scientific methods' and presented claims 'uncorroborated by footnotes'. When, for example, the witness spoke about the JNA withdrawing from BH he didn't refer to the original JNA order. Instead the witness refers to a book Secession Orchestrated by Great Powers, in which the order is referenced. According to the prosecution, the book presents a 'one-sided view' of the war: Slovenia and Croatia, followed by the Bosnian Muslims, 'launched an aggression against the SFRY', 'causing the war and a large number of victims'.
'Not even an apocalyptic vision of a bloody war could deter the secessionists burning with primitive hatred', prosecutor Korner quoted from the introduction of the book. Kovacevic replied that he 'didn't have time' to find the original order and had the book in his personal library. The book was published by the Institute for Political Studies and its authors were persons with the 'highest academic degrees', Kovacevic added.
The prosecutor then compared the expert report Kovacevic wrote for Zupljanin's defense with parts of the report he wrote three years ago for the trial of the RS officers convicted of genocide in Srebrenica. Prosecutor Korner insisted that Kovacevic 'has changed neutral language from his previous report and modified it, making it critical' in the new report. As the prosecutor noted, the witness added to his latest report the claim that the local authorities influenced command and control in the police because 'defense counsel Krgovic told him that it is part of the defense case'. 'I may have dropped' the part about the influence of the local authorities from the report drafted for the Popovic et al case, the witness explained, but he denied that the defense counsel in any way influenced his decision to include this into his analysis this time.
The defense expert dismissed the prosecutor's suggestion that he used the term 'parapolice' in his report with an intention to 'help the defense' of Zupljanin. Kovacevic contends that the police are in fact parapolice when they 'leave the police stations' and 'stop people' at check points showing them their police IDs without the permission of a superior officer.
Vidosav Kovacevic's cross-examination continues tomorrow.