Home
ZUPLJANIN'S DEFENSE: 'IT'S NOT A WAR CRIME TO BE BAD CHIEF'
Stojan Zupljanin's defense started its case today with an opening statement. Zupljanin's defense counsel insisted that the former chief of the Banja Luka police had done as much as he could to 'prevent or mitigate' the consequences of events in 1992. However, Zupljanin 'was not up to the situation', Krgovic said, adding 'it is not a war crime to be a bad police chief'. The first defense witness is military expert Vidosav Kovacevic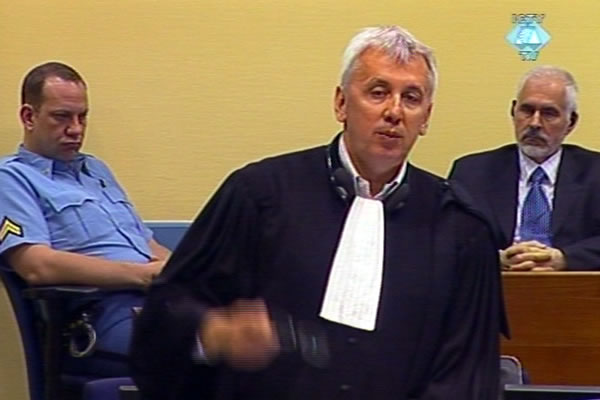 Dragan Krgovic, defence attorney of Stojan Zupljanin
'It's not a war crime to be a bad police chief and Stojan Zupljanin cannot be responsible for the fact that he was not up to the situation in 1992', said defense counsel Dragan Krgovic as he wrapped up the opening statement at the beginning of Zupljanin's defense case. Zupljanin is a former chief of the Security Services Center in Banja Luka and is charged together with Mico Stanisic with crimes against Muslims throughout BH in 1992.
In a brief opening statement, the defense counsel noted that in its case the defense would focus on 'establishing the context'. To understand the role Zupljanin had it is necessary to know the context in which he had to operate and his 'actual ability to do something and to exercise his powers under the law'.
According to the defense, the basic feature of the context is that at the beginning of the war a large number of armed groups of various ethnic backgrounds existed in the area under Zupljanin's jurisdiction; general insecurity and 'banditry' reigned. At the same time, about 80 percent of the police officers were engaged in combat and couldn't perform their regular duties. The fact that some Serbs with military and police insignia committed crimes added to the 'impression of anarchy' and resulted in widespread mistrust in the police, the defense counsel continued. Zupljanin talked about those problems in the annual report to the ministry and did as much as he could to 'prevent or at least mitigate' the consequences of events from 1992, the defense counsel insisted.
The defense then called its first witness, military expert and retired JNA general Vidosav Kovacevic. He already testified at the trial of the seven RS military and police officers convicted of the crimes in Srebrenica and Zepa. For that trial, Kovacevic wrote a report on the role and position of morale officers in the VRS Main Staff.
In the expert report he has written for this trial, Kovacevic studied the use of police units in combat operations, which, as he explained, was not defined by the law. There is only one article in the SFRY Law on All-People's Defense and Social Self-Protection stipulating that the police 'can be used in combat'. Nevertheless, because 'war creates circumstances which do not exist in theory', on occasion the police took part in combat. The witness contends that on such occasions the police 'were always subordinated to the military commander in charge'.
Kovacevic will continue his evidence tomorrow and is expected to remain in the witness stand until the middle of next week.