Home
PROSECUTION: MLADIC SHOULD BE TRIED IN TWO SEPARATE PHASES
The prosecution has filed a motion to sever Mladic's indictment into two parts allowing the trial of the former Bosnian Serb army commander to proceed in two phases. The first trial would cover the genocide in Srebrenica. After it, the focus would shift to the crimes in the BH municipalities, the terror campaign in Sarajevo and taking UN staff hostage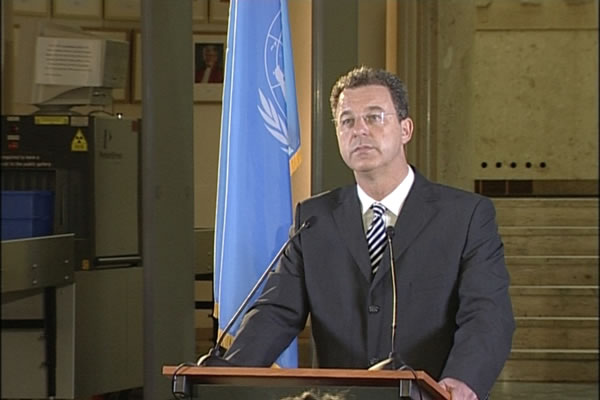 Serge Brammertz, chief prosecutor in the Tribunal
Tribunal's chief prosecutor Serge Brammertz has filed a motion to sever the indictment against the former commander of the Bosnian Serb Army Ratko Mladic into two parts. The prosecution wants the Mladic trial to be split in two: he should be tried first for genocide in Srebrenica, and then for the crimes in 23 BH municipalities, the terror campaign in Sarajevo and taking UN staff hostage. According to the document made public today, the motion has been motivated by the need to 'ensure justice for the victims', the desirability of commencing a trial as soon as possible and the need to plan for the contingency that Mladic's health could deteriorate.
The prosecution estimates that its case for the Srebrenica genocide could be completed in one year, because it is a compact case covering 'events taking place over a relatively short period of time in a relatively confined geographic area'. The prosecution contends that Mladic played a particularly 'central role' in those events, an allegation which has been proven at the previous Srebrenica trials of VRS officers who served as Mladic's subordinates.
Severing the indictment does not diminish in any way the importance and gravity of the crimes perpetrated in the ethnically cleansed BH municipalities, during the 44 months of terror in Sarajevo and the crimes against UN members taken hostage and used as 'human shields', the motion notes. Both indictments, the motion specified, 'are equally important'. For practical purposes the prosecution wants to prosecute Mladic for Srebrenica first. The trial on the second indictment would commence as soon as practicable after the first trial.
The prosecution argues the separation would be advantageous for the prosecution, the defense and the judges in a number of ways. At the same time, it will not jeopardize Mladic's rights as the two separate indictments will not contain any new charges or new forms of responsibility.
This is the first time that the prosecution has sought leave to split the indictment and the trial of an accused into two or more phases. In Slobodan Milosevic's case the prosecution did the opposite: it sought to join the three indictments – for crimes in Kosovo, in BH and in Croatia – into a single mega-case against the former president of Serbia and FR Yugoslavia. The prosecution's motion was granted by the Appeals Chamber. The experience from that case and the fact that Mladic arrived in The Hague in the final stages of the Tribunal's work has led the prosecution to proceed differently in this case; the prosecution wants to prevent, inasmuch as this is possible at all, another accused to evade justice by dying before a judgment is handed down.
The accused Mladic and his defense team now have to respond to the prosecution's motion. Mladic's defense is headed by Branko Lukic. The Trial Chamber with judges Orie, Moloto and Floege will rule on the motion.