Home
PROSECUTION AND MLADIC'S DEFENSE FACE OFF FOR THE FIRST TIME
The prosecution has asked the Trial Chamber to 'restrict' the disclosure of the materials and information provided to Ratko Mladic's defense by the prosecution in order to safeguard the privacy and protection of victims and witnesses. Mladic's court-appointed counsel Aleksandar Aleksic has replied that the prosecution is 'violating Ratko Mladic's basic right to a fair and public trial'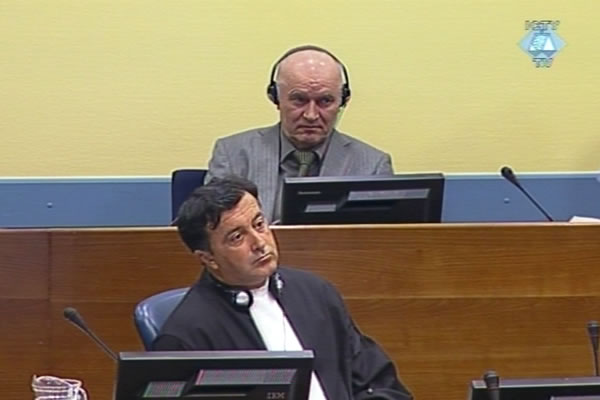 Ratko Mladic i Aleksandar Aleksic in the courtroom
Belgrade lawyer Aleksandar Aleksic, who has been appointed by the Tribunal to represent Ratko Mladic, has urged the Trial Chamber to reject prosecution motion for protective measures for victims and witnesses and documentary evidence in the case of the former commander of the VRS Main Staff.
In the motion filed on 3 June 2011, prosecutor Dermot Groome asked the Trial Chamber to restrict the disclosure of 'materials and information' provided to the defense by prosecution, arguing that the prosecution disclosed the documents for the sole purpose of enabling the accused to participate in the proceedings and to prepare and present his case. The prosecution "does not provide this information so that it can be provided to the media and the public', the motion notes. The prosecution contends that making the material public might compromise the security of the victims and witnesses and "compromise or impair the investigations and the trial".
The document notes that the information about the whereabouts of the witnesses and victims is 'private' and the prosecution treats it as 'confidential'. This information cannot be disclosed to third persons without prior approval. According to the prosecution, it is in the interest of justice to keep the information confidential, to reduce the risk for the witnesses and victims and protect their privacy. The prosecution has consequently sought leave to redact any information about 'the whereabouts" of witnesses or their families and other persons mentioned in the statements whose testimony the prosecution either has disclosed or plans to do it.
Defense counsel Aleksic contends that the motion 'has negative impact on Mladic's ability to prepare his defense' and that it violates the basic right of the accused to 'a fair and public trial'. According to the defense counsel, the request is in no way "justified' and it 'allows the prosecution to edit information contained in the witness statements and other documents'.
Former VRS general Ratko Mladic has been in the Tribunal Detention Unit since 31 May 2011. At his initial appearance, Mladic postponed entering his plea to the allegations in the indictment until 4 July 2011. Mladic is charged with double genocide and other crimes in the war in Bosnia and Herzegovina.