Home
MLADIC AGAINST SEVERING OF INDICTMENT
In its reply disclosed today, the defense of the former commander of the VRS Main Staff contends that granting the prosecution motion to try Ratko Mladic in two phases – first for Srebrenica and then for ethnic cleansing, Sarajevo and hostages – would have a negative impact on the right of the accused to a fair and expeditious trial. It would also put the defense to a disadvantage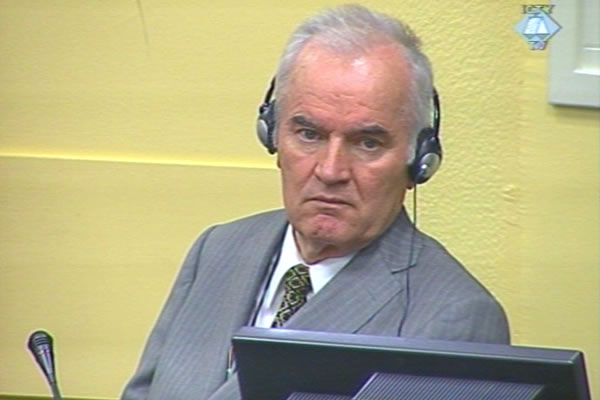 Ratko Mladic in the courtroom
Ratko Mladic's defense opposes the prosecution motion to sever the indictment and to try the former commander of the Bosnian Serb army in two phases. The first trial would deal with the genocide in Srebrenica, and the second phase would cover the ethnic cleansing in BH, the terror campaign in Sarajevo and taking UN staff hostage.
In its reply, the defense maintains that the prosecution's motion was based on erroneous legal standards. The motion runs contrary to the current jurisprudence of the Tribunal and to the Criminal Code of the former SFRY valid at the time relevant for the indictment, the defense contends.
The reply, signed by Mladic's lead counsel Branko Lukic, focuses for the most part on the negative impact that severing the indictment and trying the accused in two stages would have on the right of the accused to a fair trial. Severing the indictment would jeopardize the principle of equality of arms; it would prejudice the defense. The defense would have to proceed to trial on the Srebrenica charges and at the same time prepare for the second trial covering the ethnic cleansing, the crimes in Sarajevo and hostage-taking. According to the prosecution, the second trial could commence as soon as the first one is finished. If the prosecution's motion were granted, the defense argued, it would require 'another three to four defense teams' to ensure a fair trial at each stage of the proceedings.
The defense went on to note that the prosecution had reversed the timeline of the events listed in the indictment when it suggested that the crimes from 1995 should be tried first followed by those from the 1992-1995 period. According to the defense, this is wrong not only chronologically, but substantially, because it is 'impossible to understand Srebrenica without the events that preceded it', the defense stated in its reply.
The defense insisted in its reply on the 'poor health' of the accused which will no doubt limit his ability to work with the defense team. Because of his health Mladic 'needs more and not less time to prepare his defense'.
Finally, the defense contends that severing the indictment wouldn't contribute to the efficiency and fairness of the trial. On the contrary, it would render it more complicated and the defense therefore urged the judges to dismiss the motion.