Home
MLADIC CHOOSES BRANKO LUKIC AS DEFENSE COUNSEL
Ratko Mladic, former commander of the VRS Main Staff, has signed a document authorizing Belgrade lawyer Branko Lukic to represent him in the proceedings against him before the Tribunal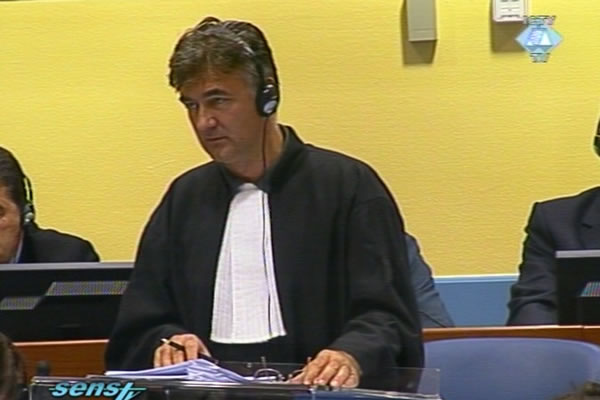 Branko Lukic, defence attorney of Ratko Mladic
The drama surrounding the selection of Ratko Mladic's defense team is about to end. Late last week, the ICTY Registry informed Mladic that Belgrade lawyer Milos Saljic could not be appointed as his lead counsel because he does not speak either of the two official languages of the Tribunal. The former commander of the VRS Main Staff today signed the power of attorney, authorizing Branko Lukic to act as his lead counsel at the trial before the Tribunal. It is now up to the ICTY Registry to accept Mladic's choice; it has already launched the procedure necessary to appoint counsel.
Branko Lukic certainly meets all the requirements for defense counsel and has until now represented several accused before the Tribunal. Lukic was lead counsel for police general Sreten Lukic and former Prijedor mayor Milomir Stakic, and co-counsel of Miroslav Kvocka. He also briefly represented Mico Stanisic, Mitar Rasovic and Momcilo Gruban. The fact that Lukic was co-counsel of Major Dragan Jokic, former chief engineer in the VRS Zvornik Brigade, who was charged with crimes in Srebrenica, just like Mladic is, may be a problem. However, when Lukic was to defend one of the accused at the so-called Srebrenica Seven trial, the ICTY Registry decided that Lukic's previous representation of Jokic didn't lead to a 'conflict of interest'. It is expected that the same conclusion will be reached this time.
Lukic's name was among the seven 'potential defense lawyers' Mladic submitted to the Registry on 22 June 2011. The next day, Mladic decided to retain Milos Saljic from Belgrade and Russian lawyer Alexander Mezyayev. Mladic insisted on their appointment as lead and co-counsel respectively until today. Saljic and Mezyayev may be part of the defense team headed by Branko Lukic, if the Registry confirms Mladic's choice.