Home
PRLIC: 'IRRECONCILABLE DIFFERENCES' AND 'ANTIPATHY' AMONG JUDGES
Jadranko Prlic's defense has urged the Tribunal's president to appoint a panel of judges to examine if the Trial Chamber hearing the case against six former Herceg Bosna officials is able to reach a fair judgment. There are 'irreconcilable differences bordering on antipathy' among the judges, the defense contends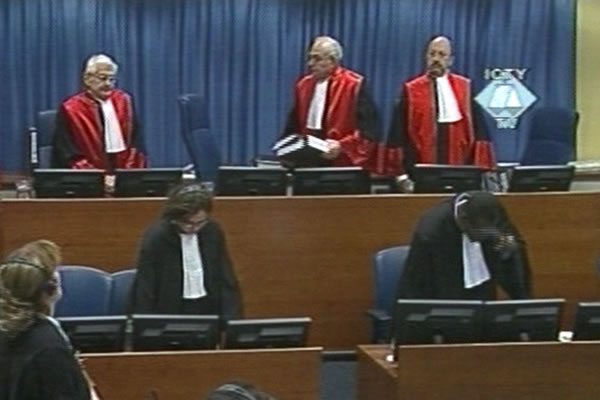 Arpad Prandler, Jean-Claude Antonetti and Stefan Trechsel
The defense of Jadranko Prlic, former Herceg Bosna prime minister, filed a motion to the Tribunal's president, asking him to convene an independent panel of Judges to examine if the Trial Chamber hearing the case against the six former Herceg Bosna officials is indeed able to deliver a fair judgment. As a second option, the defense proposes that the Bureau, comprising the president and the vice-president of the Tribunal together with the presiding judges of the three trial chambers, decides if the Trial Chamber is 'capable of deliberating as a collegial and collective body". The Trial Chamber comprises of judges Antonetti, Trechsel and Prandler.
Prlic's defense lawyer Michael Karnavas noted that it is the right of every accused to have their case heard before a 'fully functional' trial chamber whose 'independence and impartiality is not under scrutiny and consideration'. Karnavas says that he filed the motion because of 'the appearance of irreconcilable differences bordering on antipathy' between judges Prandler and Trechsel on the one hand, and the presiding judge Antonetti on the other. The defense argues that this is 'rising doubts regarding their ability to function as a collective body" while deliberating on the evidence and reaching the verdict of guilt or innocence.
The motion goes on to note there is an 'unusually large number' – at least 50 – of dissenting opinions put in by Judge Antonetti in relation to the positions taken by the 'majority' of the judges, Trechsel and Prandler. This indicates there is an 'intractable division' between them. The motion provides a number of quotes from the dissenting opinions of the French judge, in which he accuses the Swiss-Hungarian 'majority' of having "double standards' and claims that he has 'never participated in such a 'chaos' of decisions'. The special annex listed all fifty dissenting opinions by Judge Antonetti from 2006 to December 2010.
According to Prlic's defense, 'it seems likely that the Accused are being tried by the Majority alone'. As a result, there is "an impression that the Trial Chamber may be disavowing its obligation to deliberate in a collegial manner'.
Prlic's defense has not specified the legal remedy that would be the most adequate if the panel of judges or the Bureau were to decide that indeed there are 'irreconcilable differences bordering on antipathy' among the three judges, Antonetti, Trechsel and Prandler, and that they really are not able to examine evidence in a collegial manner to deliver a fair judgment.
Jadranko Prlic is on trial together with Bruno Stojic, Slobodan Praljak, Milivoj Petkovic, Valentin Coric and Berislav Pusic for crimes against Muslim civilians in Central Bosnia and Western Herzegovina in 1993 and 1994. The crimes were perpetrated as part of a joint criminal enterprise headed by Croatian president Franjo Tudjman. The trial of the former Herceg Bosna leaders started in April 2006 and closing arguments have been scheduled for February 2011.