Home
TRIAL OF HERCEG BOSNA LEADERS SUSPENDED
The trial of former Herceg Bosna leaders has been suspended pending the decision on Jadranko Prlic's motion to disqualify Hungarian judge Arpad Prandler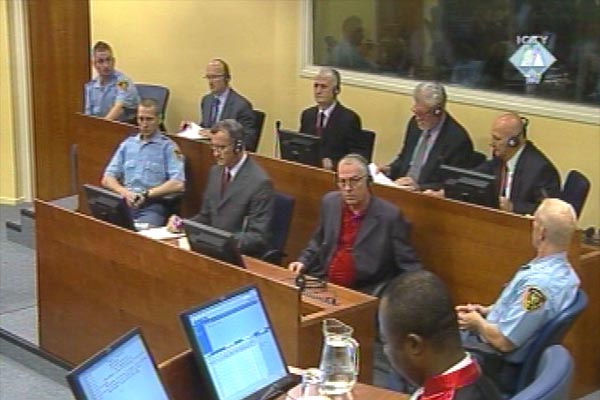 Jadranko Prlic, Milivoj Petkovic, Bruno Stojic, Slobodan Praljak, Valentin Coric and Berislav Pusic in the courtroom
The Trial Chamber with French judge Jean-Claude Antonetti presiding decided today to suspend the trial of six former Herceg Bosna leaders pending the decision on the renewed motion filed by Jadranko Prlic's defense to disqualify Hungarian judge Arpad Prandler.
Prlic's defense filed the motion initially in late August this year, but it was dismissed last week for procedural reasons: it was addressed to a wrong judge. The defense then filed a new motion; this time to O-Gon Kwon, who is the presiding judge of the Trial Chamber III.
Prlic's defense seeks to disqualify Judge Prandler for his alleged bias. As specified in the motion, the bias stems from his acquaintance with former UN civil affairs adviser Viktor Andreev, and his 'categorical refusal' to explain to the defense the nature of the acquaintance.
After the defense inspected Mladic's diaries, it concluded that Andreev had during the war relayed confidential information to the Serbs and thus 'affected the developments on the ground and the course of the negotiations'. According to the defense, this 'brings into doubt the accuracy and reliability' of UNPROFOR documents admitted as prosecution exhibits, and of various international witnesses.
In the meantime, General Slobodan Praljak's defense has joined the motion to disqualify the Hungarian judge. The prosecution opposes the motion because, as it contends, the motion is based on the information outside the scope of the proceedings, which has no bearing on the case against the former Herceg Bosna leaders.
Both parties rested their case in mid-May, but the prosecution then asked for leave to re-open its case in order to tender into evidence parts of the war diary General Ratko Mladic kept from June 1991 until the end of November 1996.
The defense teams of Jadranko Prlic, Milivoj Petkovic, Slobodan Praljak and Bruno Stojic opposed the motion, indicating they would be seeking to reopen their cases, if the tendered portions of Mladic's diaries were in fact admitted into evidence.