Home
DEFENSE: POLICE INVESTIGATED CRIMES, BUT DID NOT KEEP RECORD OF THE INVESTIGATIONS
The defense of the former Security Services Center in Banja Luka claims that in 1992 the Serb police did investigate crimes against Croats and Muslims and filed criminal reports, but often failed to record them in appropriate crime logbooks. The current police director in the Republika Srpska MUP was asked by the prosecution to analyze the logbooks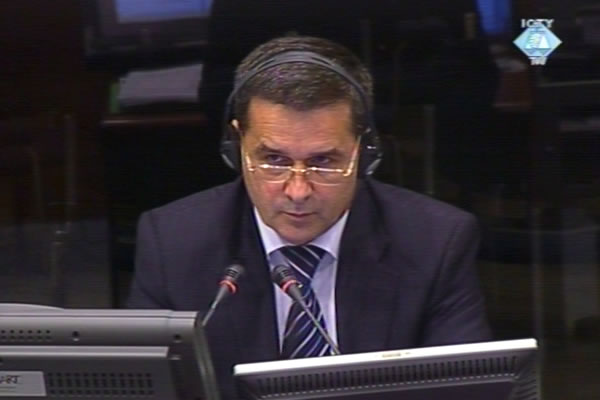 Gojko Vasic, witness at the Mico Stanisic and Stojan Zupljanin trial
On the last day of his evidence, Gojko Vasic, police director in Republika Srpska, was examined by the defense counsel for Stojan Zupljanin, former Security Services Center chief in Banja Luka. His questions followed the pattern set by Mico Stanisic's defense. Both defense lawyers argued that many of the criminal reports filed by the Bosnian Serb police in 1992 never made it to the crime logbooks. The witness's analysis of the logbooks is therefore 'incomplete' and 'fails to give a full picture of the situation'.
In 1992, Vasic was a CID inspector in the Public Security Station in Laktasi. Over the past two days, he testified about his analysis of the records of crimes against non-Serbs in 1992 in the municipalities listed in the indictment.
Defense lawyer Dragan Krgovic today analyzed with the witness the criminal reports for the municipalities of Teslic, Banja Luka, Kotor Varos and Prijedor. He showed Vasic a criminal report against the crime gang called Mice, that included soldiers, police officers and criminals from Doboj. The Banja Luka police arrested them in the summer of 1992 and transferred them to the Teslic judiciary, with a criminal report indicating they were responsible for the murders of 40 Croats and Muslims, rapes and thefts.
Vasic confirmed that the criminal report never made it to his analysis because it had not been recorded in the Teslic police station crime logbook. The witness also confirmed that he failed to include criminal reports for the crimes committed in 1992, but recorded in the logbooks for subsequent years.
The other major crime where the police filed a criminal report, not recorded in the crime logbook, is the massacre at Koricanske Stijene on Mount Vlasic. On 21 August 1992, members of the Prijedor police intervention platoon shot to death about 200 Muslims.
The defense lawyer also noted that the crime scene reports for war crimes were never recorded in the police crime logbooks, since those cases were deferred to the military prosecution. This is why, in order to get a full picture, it would be necessary to analyze the crime scene logs, daily records and crime logbooks kept by the military security service.
Mico Stanisic and Stojan Zupljanin, former high-ranking officials in the Bosnian Serb police, are charged with persecution, detention, torture and murder of Croats and Muslims, committed by the Serb police in 1992 in 20 municipalities throughout Bosnia and Herzegovina. The trial will continue on Monday with the evidence of a new prosecution witness.