Home
MINISTER'S CLEARANCE FOR LOOTING
Testifying at the trial of Mico Stanisic and Stojan Zupljanin, police insider says that in April 1992 Ratko Mladic told him that Stanisic – then RS interior minister –gave Arkan permission to loot around Sarajevo freely and keep the loot for himself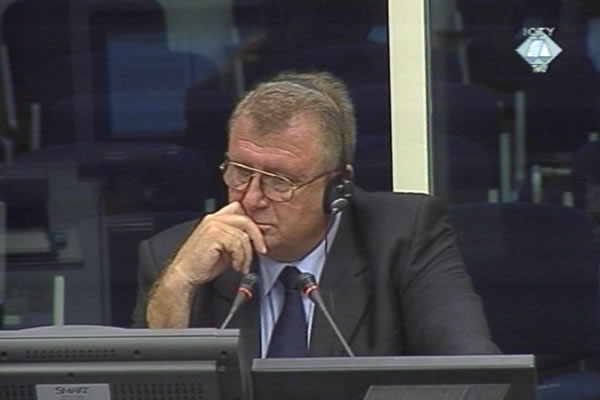 Milorad Davidovic, witness at the Mico Stanisic and Stojan Zupljanin trial
Continuing his evidence at the trial of former Bosnian Serb police officials Mico Stanisic and Stojan Zupljanin, prosecution witness Milorad Davidovic noted that many had tried to claim credit for disarming and arresting the paramilitaries in Republika Srpska. The Bosnian Serb authorities tried to do it when it became clear that some of them could be held responsible before the Tribunal and local courts, Davidovic said.
Davidovic, former inspector in the Yugoslav Federal SUP, was sent to Republika Srpska with a special forces' brigade in July 1992 to arrest paramilitaries. The RS MUP special units and the VRS took part in the operation under Davidovic's command. He personally 'didn't expect to get any awards for that'. He was not surprised that the Republika Srpska police and the VRS were today given credit for arresting the Yellow Wasps in Zvornik, the Red Berets in Brcko and some other paramilitary groups.
Yesterday the witness said that the RS interior minister Mico Stanisic 'gave him free rein' to arrest the volunteers who broke the law regardless of who they were. Today in the re-examination the prosecutor reminded the witness that he told the investigators about Stanisic's arrangements with Zeljko Raznatovic Arkan, whereby Arkan was allowed to come to Sarajevo and to keep everything he looted but to hand the captured territories over to the Bosnian Serbs. Davidovic explained that he received this information from Ratko Mladic in April 1992 at a meeting in Lukavica, where Mladic explained to him that the paramilitary units 'are not coming in by accident or spontaneously, because they enjoy someone's protection'. As an example, Mladic told Davidovic about the alleged agreement between Stanisic and Arkan.
Davidovic was then asked about the massacre of the Sarajlic family in Bijeljina in September 1992. As he said, Dusko Malovic told him that his unit had killed the family on the orders of Drago Vukovic, chief of security in the Bijeljina SUP, Davidovic explained. At the time, Stanisic was Malovic's immediate superior, but the witness claimed the local police had tried to cover up the murders and that he had never seen a single document notifying the interior minister about the massacre.
The trial of Mico Stanisic, the first Republika Srpska interior minister, and Stojan Zupljanin, former chief of the Security Services Center in Banja Luka, continues tomorrow. Stanisic and Zupljanin are charged with the persecution, arrest, torture and murder of Bosnian Croats and Muslims in 20 BH municipalities in the course of 1992.