Home
KARADZIC CALLS FOR ANOTHER POSTPONEMET OF THE TRIAL
Karadzic filed his motion to postpone the trial, but suggested that the court should retain the motion under submission until ICTY President and the Appeals Chamber rule on his appeals against the decision of the Registry on the way his defense is financed and the appointment of his stand-by counsel. If the Tribunal's President upholds the Registrar's decision on the financing of the defense, Karadzic threatens to refuse 'participating in the trial…which would be a farce'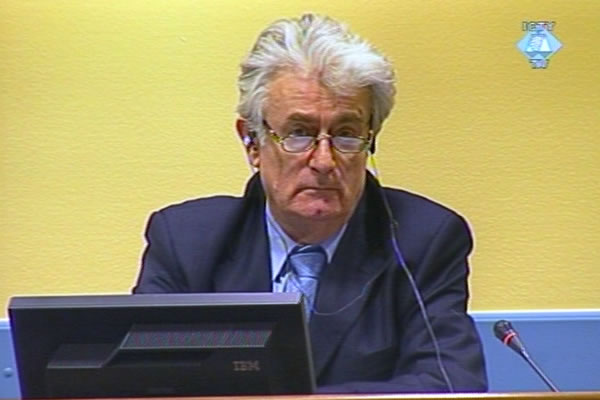 Radovan Karadžić u sudnici Tribunala
Radovan Karadzic, former president of Republika Srpska accused of genocide and other crimes in the war in BH, filed today a formal motion to postpone his trial. The trial has been scheduled to continue on 1 March 2010. Karadzic's motion is based on the purported violation of his rights by the ICTY Registrar, who cut down the funds for Karadzic's defense and appointed standby counsel Karadzic doesn't trust and thereby for all intents and purposes, as the accused put it, "the Registrar is making it impossible for him to prepare and participate in the trial".
This motion was submitted pending the decisions of the ICTY President and the Appeals Chamber on Karadzic's appeals against controversial decisions of the ICTY Registrar. If Karadzic's appeals against the way the defense is financed and the appointment of Richard Harvey as his standby counsel are granted, it would be reasonable to postpone the trial, Karadzic said, in order to allow him to make up for the time lost because of the Registrar's decisions. According to Karadzic, the new stand-by counsel should be granted at least three and a half months to prepare for the trial.
If the Tribunal's President supports the Registrar's decision on the financing of the defense team, 'there would be no reason to postpone the trial', Karadzic noted, because in that case, 'it is simply unlikely that he would participate in the trial…which would be a farce'.
This veiled threat is the precise reason why the Trial Chamber ordered that counsel be appointed to Karadzic in late 2009, after Karadzic's three-day boycott of the trial, which began then. If the accused continues obstructing 'proper and expeditious conduct of the trial', the stand-by counsel will take over the entire defense of the accused regardless of whether Karadzic appears in the courtroom or not.