Home
KARADZIC'S MOTION FOR POSTPONEMENT DISMISSED
The Trial Chamber ordered the trial to proceed on 1 and 2 March 2010 with the opening statement of the accused. On 3 March 2010, the prosecution will call its first witnesses. The standby counsel is invited to be in the courtroom for the opening statement of the accused. The judges will then decide on his future role in the trial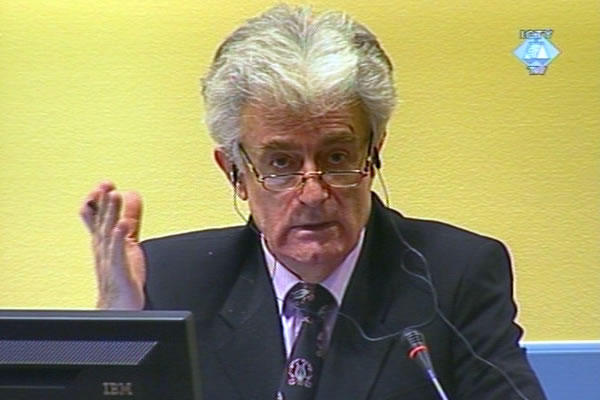 Radovan Karadzic in the courtroom
The Trial Chamber today dismissed Radovan Karadzic's motion to postpone the trial and to grant him additional time to prepare for his defense. Karadzic maintained that he had not been able to prepare for his defense because the Registrar had not given him enough money to retain a full team of legal advisers, associates and investigators, from the time his trial was adjourned on 2 November 2009. In the meantime, the ICTY president granted Karadzic additional funds for the defense team and Karadzic requested that the trial be postponed for three months and three weeks, until 17 July 2010.
Rejecting the motion of the accused, the Trial Chamber noted that Karadzic had 18 months to prepare. The case was declared ready for trial in September 2009 and the Appeals Chamber confirmed this. The amount of material disclosed to the accused since October 2009 has not been sufficient to justify yet another postponement of the trial, the Trial Chamber ruled.
According to the Trial Chamber's order, after the opening statement of the accused, scheduled for 1 and 2 March 2010, the prosecution will call its first witnesses: a prosecution witness registered under the pseudonym KDZ 263 will testify with protective measures, and Sulejman Crncalo. Both witnesses will give evidence pursuant to Rule 92
ter
. The transcripts of their prior evidence before the Tribunal will be admitted into evidence. After their brief examination-in chief, the prosecution witnesses will be cross-examined by Karadzic. The accused told the Trial Chamber he was not ready to proceed with the cross-examination. Without assistants and investigators, Karadzic was unable to locate the witnesses' statements and supporting documents and to obtain from other sources information he could use in the cross-examination.
In the decision, stand-by counsel Richard Harvey was ordered to be in the courtroom during the opening statement of the accused. The court will then decide on Harvey's further role in the trial.
Karadzic was given until Monday, 1 March 2010 to seek leave to appeal against this decision.
Karadzic is charged in 11 counts in the indictment with double genocide and war crimes against humanity in the BH war from 1992 to 1995.