Home
KARADZIC ANNOUNCES HE WILL CALL FOR POSTPONEMENT OF HIS TRIAL
Former Republika Srpska president claims that the position of his defense has further deteriorated since the trial was interrupted in November 2009. Karadzic, indicted for genocide and other crimes in BH, has announced he will call for his trial to be postponed; it has been scheduled to continue on 1 March 2010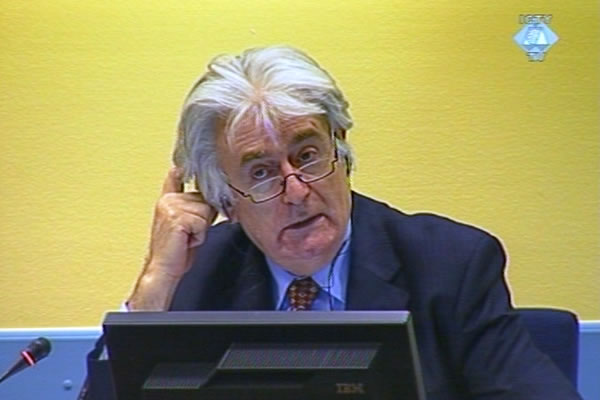 Radovan Karadzic in the courtroom
Presiding judge O-Gon Kwon said today that the Trial Chamber was determined to see the trial of Radovan Karadzic continue on 1 March 2010. The accused announced that he would file a motion to postpone the trial. Karadzic noted that conditions for his defense had deteriorated since November 2009, when the trial officially started with the opening statement of the prosecution.
On the one hand, Karadzic noted, the prosecution has disclosed another 300,000-odd pages of documents since November 2009. On the other, the Registry has reduced the funds for Karadzic's legal advisors and associates, because it considers the trial has been suspended. The ICTY president is deliberating on the issue of the funds for the defense. The number of associates Karadzic will be able to hire and the time he will need to prepare for the trial will depend on the President's decision, Karadzic noted.
The Trial Chamber has scheduled another status conference for 15 February 2010, to discuss Karadzic's requests to issue subpoenas to various countries, compelling them to hand over documents. Last year, the accused asked some 30 countries to hand over to him documents he considered relevant for the trial. In the meantime about twenty countries did so and Karadzic withdrew his request for subpoenas. A few countries haven't complied with all or most of Karazdic's requests, and the Trial Chamber will invite the countries to send their representatives to attend the hearing. Germany, BH, Croatia, Iran, France, Italy and Holland were named as countries that will or may be called to attend the hearing.
On the one hand, Karadzic has asked the governments and international organizations like the UN, EU or NATO to give him documents that might assist with his defense; on the other, he has been complaining against a 'tendency to turn the proceedings against me into a paper trial'. Not only does the prosecution have a huge amount of evidence, but a lot of witnesses will have their written statements admitted into evidence and will not testify live, and the judges will take notice of adjudicated facts from other cases. As a result, Karadzic believes, the truth about the events in BH will not be established. According to him, this truth 'has not been established in any of the trials so far'.
British lawyer Richard Harvey followed today's status conference from the public gallery. The Registry has appointed Harvey as the standby counsel: he will take over the defense if the accused continues obstructing the trial.