Home
HARVEY TO REMAIN KARADZIC'S STAND-BY COUNSEL
The Trial Chamber denied Karadzic's motion to vacate Registry decision to appoint Richard Harvey his stand-by counsel; Harvey will take over Karadzic's defense if the accused continue with obstructive behavior when the trial continues on 1 March 2010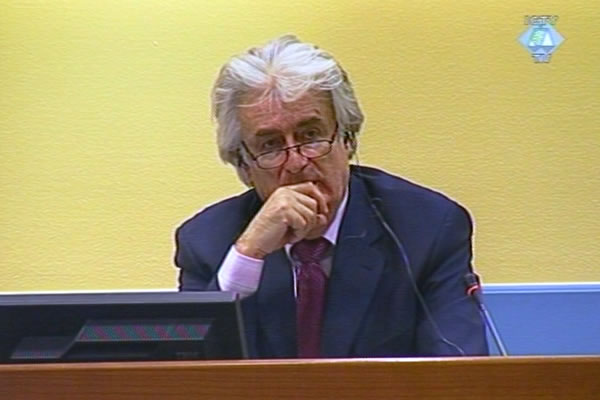 Radovan Karadzic in the courtroom
Judge Kwon's Trial Chamber denied Radovan Karadzic's motion to review and vacate the Registry decision appointing English lawyer Richard Harvey his stand-by counsel, ready to take over Karadzic's defense if the accused continues in any way to obstruct the proper and expeditious conduct of the trial.
Karadzic's motion to review the decision was based on his claim that the Registrar had made a number of errors in the procedure to appoint Harvey, violating the Statute, the Rules of Procedure and Evidence and the Directive on the Appointment of Counsel, and the Appeals Chamber's decision in the Vojislav Seselj case. The registrar refused to provide Karadzic with a full list of lawyers who may defend the accused before the Tribunal; Karadzic was given a list of five 'available' lawyers. All five are from the NATO countries who bombed Republika Srpska in 1995, and four of them defended the accused Kosovo Liberation Army commanders before the Tribunal, saying 'nasty things' about Serbia and Serbs.
Dismissing Karadzic's arguments, the Trial Chamber concluded that the Registrar had not erred or acted unreasonably when he appointed Harvey as stand-by counsel, that he had complied fully with the procedure and the Tribunal's jurisprudence, offering the accused an opportunity to take part in the selection process. Harvey's appointment did not violate any of the rights of the accused and did not restrict Karadzic's self-representation in the trial, since it will depend entirely on his conduct.
Karadzic's argument that Harvey and other lawyers on the list are all from NATO countries is bizarre to say the least, the Chamber found, since his lead legal adviser, Peter Robinson, is from the USA, 'the leading power in the North Atlantic Alliance'; there are also many lawyers from NATO countries among his pro bono advisers and assistants.