Home
"A SUPERIOR DOESN'T COOPERATE, HE ORDERS"
Noting there was a connection between Ivan Cermak and the civilian police after Operation Storm, the prosecution produced Cermak's interview with the OTP investigators where he admitted that he had good cooperation with the MUP and Minister Jarnjak. Defense witness Ivica Cipci responded, saying that it actually meant that Cermak had no authority over the police: according to him, cooperation is not the same as having command authority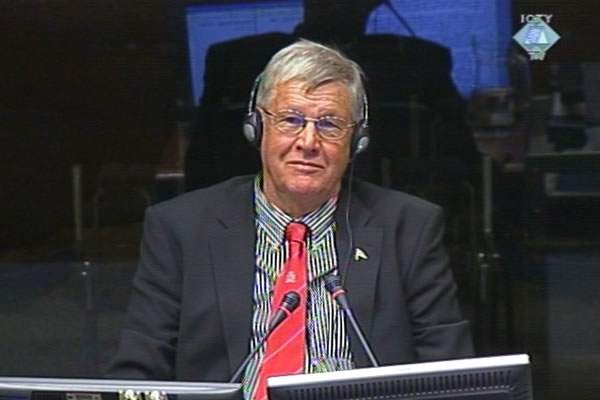 Ivica Cipci, svjedok odbrane Ivana Čermaka
Former chief of the Split-Dalmatia Police Administration Ivica Cipci completed his evidence sticking to what he had said to the defense, that General Cermak had no authority over the civilian police in Knin after Operation Storm. Cermak, who was the commander of the Knin Garrison, is on trial together with generals Gotovina and Markac for taking part in the joint criminal enterprise aimed at the permanent elimination of Serbs from Krajina in the summer and fall of 1995.
Prosecutor Adria De Landri showed a number of documents where the Knin police informed Cermak about steps taken regarding crimes committed in the second half of 1995. Asked why the police informed Cermak about that if they were not subordinate to him, Cipci said that such reports were actually sent to addressees in the Croatian MUP. Cermak received them 'for his information'. According to Cipci, the Knin Garrison commander was listed among the addressees because he needed the information about those investigations to be able to use it in his contacts with the UN mission and other international observers. They reported crimes to Cermak and expected information on what steps had been taken.
The prosecutor then referred to Cermak's interview with the OTP investigators in 1998, where Cermak said that his garrison worked well with the police, adding he was on good terms with Minister Jarnjak and that he and Jarnjak discussed the steps the police should take vis-à-vis crime investigations. The witness said Cermak's statement only served to reinforce his belief that Cermak did not have command responsibility over the civilian police. The document speaks about working with the police, Cipci said; a 'superior doesn't cooperate with others, he orders them to do something'. If Cermak had had command authority, he would have issued orders to the police, the witness contended; he would not have asked Jarnjak to deal with problems.
The Knin Garrison commander could not issue laissez-passer guaranteeing freedom of movement in the liberated area to civilians either, although he did that, Cipci added. Laissez-passer signed by Cermak were not valid in the area controlled by the Split-Dalmatia Police Administration, the witness claimed.
There will be a one-week break in the trial of the three Croatian generals. On 26 October 2009, Ivan Cermak's defense will call its next witness. Cermak's defense is expected to rest its case by late October or in the first week of November 2009.