Home
WITNESS: CERMAK HAD NO AUTHORITY OVER POLICE
In his evidence as General Cermak's defense witness Ivica Cipci, former chief of the Split-Dalmatia Police Administration, contends that under the Croatian law the accused general was not superior to the civilian police in Krajina after Operation Storm. The presiding judge commented that 'practice is known to deviate from laws at times'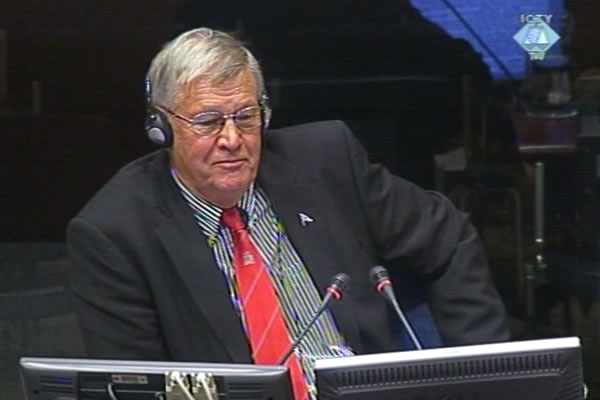 Ivica Cipci, svjedok odbrane Ivana Čermaka
Former chief of the Split-Dalmatia Police Administration Ivica Cipci told defense counsel Steven Kay that General Ivan Cermak as the Knin Garrison commander had 'no authority whatsoever' over the civilian police in Krajina after Operation Storm. Cipci thus challenged the allegation in the indictment that the accused general could have used the police units to prevent crimes and punish those who killed Serb civilians and looted and burned down their houses in the summer and the fall of 1995. Generals Ante Gotovina and Mladen Markac face the same charges as Cermak.
Cipci contends that Cedo Romanic, chief of the Knin Police Administration, was in charge of the police work. According to the chain of command, Romanic reported to the Croatian MUP and to Minister Jarnjak. The witness didn't rule out the possibility that Cermak may have issued written orders to the police at times. However, the witness added that such documents had no weight; they were purely informative. Cermak was obliged, as is every other citizen, to report any crimes he was aware of to the police, but Cipci couldn't say why Cermak did that using the order format.
To corroborate his claims, the witness used the commander of the Split Garrison as an example. That man had no authority over the police in the Split-Dalmatia Police Administration, Cipci said, just as Cermak had no jurisdiction in the Knin area. This could be verified by looking into laws that were in force at the time. Presiding judge Orie told Cipci that the Trial Chamber would take into account the legislation, but added that 'practice is known to deviate from laws at times'.
In his statement to Cermak's defense admitted into evidence today, Cipci says that in mid-August 1995 he was told that large-scale looting of abandoned houses was underway in Knin; it was done by civilians arriving by train from Split. In his cross-examination by Gotovina's defense the witness said he had suggested to his police officers, seconded to the Knin Administration, to line up along the train station and prevent the goods from being loaded onto the train to Split. They did that and the looted goods remained in Knin, Cipci said.
The presiding judge joined in, asking the witness why he didn't order his police officers to prevent the looting instead of waiting for the looted goods to get to the train station. 'I was not authorized to do it', Cipci replied. All MUP personnel in Knin, including the police from the Split-Dalmatia Administration, were subordinated to Cedo Romanic. When asked if he felt it was appropriate to inform Romanic about the events, the witness said there was no need to do it: he assumed that police officers in the field, down the chain of command, had already done that.
Markac's defense counsel Mikulicic proceeded to ask the witness some questions. As the hearing today drew to a close, the prosecution began cross-examining the witness.