Home
KARADZIC TRIAL TO START ON MONDAY, WITH OR WITHOUT HIM
By confirming that the trial will start as scheduled in the face of Karadzic's threat of boycott, the judges have shown they have no intention of letting any of the accused dictate when, and if at all, they will be tried before the Tribunal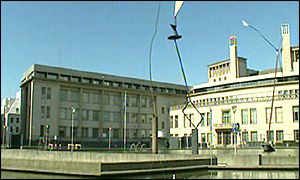 Headquarter of the Tribunal in Den Haag
'Radovan Karadzic's trial will begin on Monday, 26 October 2009, at 9 a.m. in Courtroom I,' Nerma Jelacic, Tribunal's spokesperson, said tersely, after the Trial Chamber considered the latest motion filed by the accused, in which he 'regret[s]' to inform the Chamber that his 'defense is not ready to proceed to trial' and that consequently he 'will not appear before the judges on that date'.
By confirming that the trial will start as scheduled in the face of Karadzic's threat of boycott, the judges have shown they have no intention of letting any of the accused dictate when, if at all, they will be tried before the Tribunal.
The ball is now in Karadzic's court. He appears to have left himself some leeway when it comes to his threat of boycotting the trial. The threat is contained only in the English translation of the motion, done by his associated, not in the original, written by the accused himself in Serbian, in Cyrillic.
The prosecution is scheduled to present its opening statement on Monday and Tuesday. More than 300 journalists from all over the world and some 200 representatives of the victims' associations from BH will attend the first day of the trial of the former Republika Srpska president on charges of genocide and other crimes in Bosnia and Herzegovina.