Home
KARADZIC'S ABSENCE TANTAMOUNT TO 'WAIVER OF HIS RIGHT TO ATTEND HIS TRIAL'
The Trial Chamber decided to proceed with the trial today in the absence of the accused issuing a warning to Karadzic: if he fails to appear next Monday at the conclusion of the prosecution's opening statement, the judges may decide to go on with the trial without him and to impose counsel on him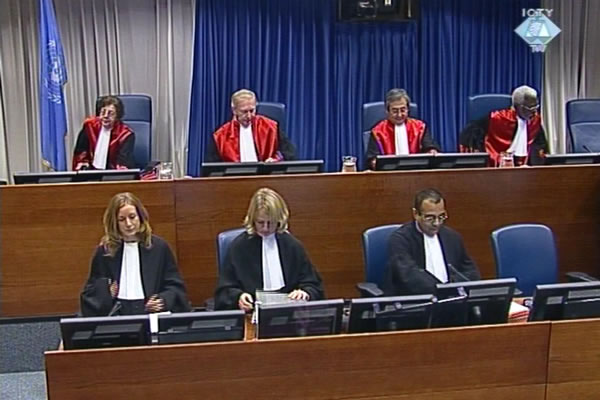 Pretresno vijeće na suđenju Radovanu Karadžiću
Radovan Karadzic didn't appear today in the courtroom and the judges said his absence was an indication of a 'voluntary and unambiguous waiver of his right to attend trial'.
Expressing their regret over the actions of the accused, the judges warned Karadzic that the Trial Chamber might decide to go on with the trial in his absence. If Karadzic doesn't appear at the conclusion of the prosecution's opening statement, the Trial Chamber may also decide to impose defense counsel on Karadzic. This decision will be taken after the prosecution has delivered its opening statement, presiding judge Kwon concluded, ordering the prosecutor to start. Judge Kwon also noted that the 'opening statement is not part of the trial'.
While she didn't contest the Trial Chamber's decision to continue the trial without the accused, prosecutor Uertz-Retzlaff noted for the record that in its decision of 8 December 2006, granting Seselj the right to represent himself, the Appeals Chamber ruled that the opening statement was an integral part of the trial, and declared that the hearing where the prosecution delivered its opening statement in the absence of the accused was null and void. The prosecution then had to repeat the opening statement a year later, when the Seselj trial reopened.
The Trial Chamber took note of the problem highlighted by the prosecution but didn't change its decision to continue the trial process without the accused.
The Appeals Chamber's decision in the Seselj case was forced by the hunger strike of the accused; the judges were afraid that yet another accused in the Detention Unit would die, following the deaths of Milan Babic and Slobodan Milosevic previously in that same year.
As the hearing today drew to a close, Judge Kwon indicated that if Karadzic persists with his boycott of the trial, there would be a hearing on Tuesday, 3 November 2009, where both the prosecution and the accused will be given an opportunity to present their arguments on how the trial should proceed.
To facilitate preparations, the judge listed five issues on which the Trial Chamber would like to hear the prosecution and the accused: the continuation of the trial without the accused and counsel; the assignment of counsel; assignment of the
amici curiae
; possible adjournment to allow for the assigned counsel to prepare for trial; other suggestions as to how the trial should proceed if the accused persists with the boycott.
As Judge Kwon indicated, the Trial Chamber will rule on this issue after it has heard the arguments of the prosecution and the accused. The accused will presumably not boycott this hearing.