Home
PROSECUTION FILES OPERATIVE INDICTMENT AGAINST KARADZIC
The prosecution has filed the operative indictment against Radovan Karadzic, with charges of genocide and other crimes in BH from 1992 to 1995, in compliance with the Appeals Chamber's order to the prosecution to serve the indictment seven days before the trial date, set for 26 October 2009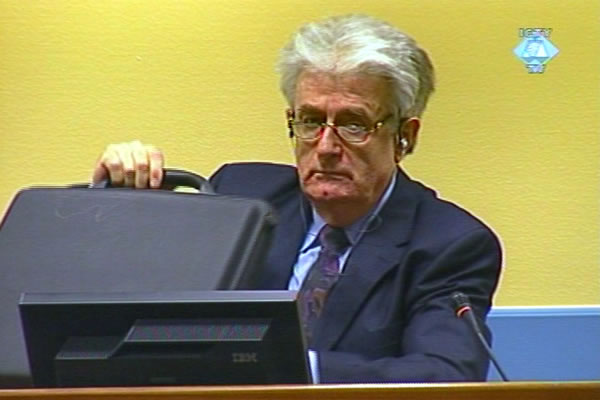 Radovan Karadžić u sudnici Tribunala
The prosecution filed today the final version of the indictment against Radovan Karadzic, former Republika Srpska president, before the deadline set by the Trial Chamber at the pre-trial conference.
Crimes in ten BH municipalities – Banja Luka, Bosanska Krupa, Bosanski Petrovac, Brcko, Cajnice, Donji Vakuf, Kalinovik, Kotor Varos, Ilijas and Visegrad – have been excluded from the operative indictment. Despite the fact that the prosecution will not call evidence on some incidents in those municipalities, the murders in the two detention camps, Luka in Brcko and Manjaca near Banja Luka, are still in the indictment.
In the notes attached to the final version of the indictment, prosecutor Hildegard Uertz Retzlaff has stated that the prosecution understands that it will be allowed to call evidence related to the incidents in the ten municipalities deleted from the indictment insofar as it pertains to the general nature of crimes Karadzic is charged with: the objectives and methods of the joint criminal enterprise, the degree of coordination and cooperation between persons and institutions that were part of the enterprise, the widespread and systematic nature of crimes. The prosecution also believes it will be permitted to call evidence on the role of the accused, his intent and knowledge of the crimes.
The eleven counts of the final indictment charge Karadzic with double genocide in 1992 and 1995, persecution, extermination, murder, deportation and forcible transfer, unlawful attacks on civilians, taking more than 200 UN members hostage and using them as human shields in the spring of 1995.
Once the operative indictment was served on the accused, seven days before the scheduled start of the trial, as ordered by the Appeals Chamber in its decision last week, the final obstacle on the road to Karadzic's trial was removed.
As things stand now, the trial could be stopped only by a UN Security Council resolution 'ratifying' the purported immunity agreement between Karadzic and US diplomat Holbrooke in July 1996. In a letter sent to the current chair of the UN Security Council Karadzic asked the UN body to pass urgently a resolution placing him outside the Tribunal's jurisdiction. According to Karadzic, the international community would thus fulfill the obligations Holbrooke had undertaken on its behalf. If not, Karadzic warned, this would set a precedent that would make it impossible to reach any agreements to solve the crises in Afghanistan, Sudan, Zimbabwe and Honduras. The leaders of those countries will not take the diplomats they negotiate with seriously, Karadzic noted, as they will not trust their promises unless they were confirmed by a UN Security Council resolution. The UN headquarters in New York has not yet released any comments on Karadzic's latest motion.