Home
'PLANNED CRIMES' BECAME 'ISOLATED INCIDENTS'
Petar Pasic, former mayor of Knin, said in his statement to the OTP investigators that the Krajina crimes after the Operation Storm were planned by the Croatian leadership. Later on, in his interviews with Ivan Cermak's defense, Pasic corrected himself, saying that crimes were just 'isolated incidents'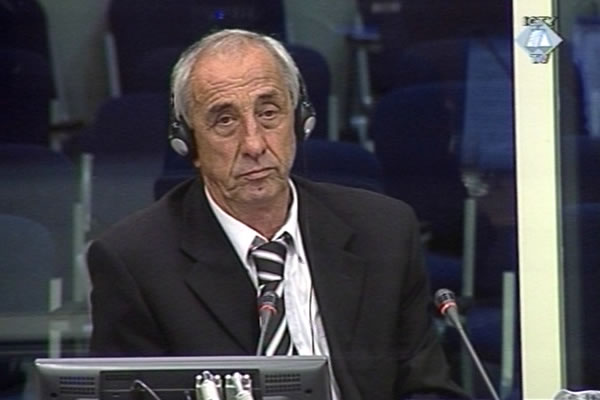 Petar Pašić, svjedok odbrane Ivana Čermaka
When Krajina was liberated in August 1995, Croatian authorities appointed several Serbs to key posts in Knin. Cedo Romanic was thus appointed chief of police of the Knin District and Milos Mihic became chief of the police station. Petar Pasic was appointed the government commissioner for Knin but he was often referred to as mayor. Romanic and Mihic haven't yet appeared in The Hague as witnesses, at least not in hearings open to the public. Today, Pasic gave evidence as Ivan Cermak's defense. Ivan Cermak is on trial with generals Ante Gotovina and Mladen Markac for crimes against Serbs during and after Operation Storm.
Pasic was first interviewed for the trial of the Croatian generals by the OTP in 2002. In the meantime, Pasic radically changed his claims. Two documents, entitled
Corrections to the Statement to the OTP
were admitted into evidence today together with a statement Pasic gave to Cermak's defense in April 2009. Their brief summaries, read by defense counsel Kay at the beginning of Pasic's evidence, indicated only that the accused general Cermak, as the Knin Garrison commander, focused primarily on normalizing the civilian life in the town.
In Pasic's cross-examination by Gotovina's defense counsel Luka Misetic it became clear that Pasic told the OTP investigators that crimes in Krajina after Operation Storm were 'planned by the Croatian leadership'; 'anarchy reigned [in Knin] and only President Tudjman could stop it'. In his statement to the defense the witness said that there had been only 'isolated incidents' in Krajina and that he would have left the government if he had thought that the killing of Serb civilians and destruction of their property had been official policy. Gotovina's defense counsel showed a newspapers article from 1996 in which Pasic said, 'individual incidents do not reflect the official Croatian policies'. This prompted Misetic to ask the witness why he said the opposite in his statement to the OTP in 2002. The witness said that he didn't remember telling the OTP investigators that crimes in Krajina were planned by the Croatian leadership.
Pasic was asked if he, as a Serb, was afraid to report those 'isolated incidents' to Croatian authorities. He denied it. The defense counsel then went on to show the witness a letter of 25 October 1995 in which Pasic tells the police in Zadar about 'stealing grapes and grain in Knin'. In his statement to the OTP investigators Pasic listed a series of serious incidents after Operation Storm. He didn't report them in writing but he did speak about them primarily to Knin police officials Romanic and Mihic. When he was asked if Romanic and Mihic did anything, the witness hesitated a little then went on to say they did nothing.
One of the most serious incidents that Pasic learned of was the murder of an old Serb woman, Marta Vujnovic, and her mentally ill son. A Croatian Helsinki Committee (HHO) report on crimes after Operation Storm admitted into evidence at the trial of Gotovina, Cermak and Markac, states that its staff contacted Pasic in August 1995, asking him to do something after the old woman and her son went missing. Pasic told them that he 'had better things to do with his time than to go around collecting Serb bodies in Krajina'. When defense counsel Misetic asked the witness if he remembered his correspondence with the HHO, Pasic said he received only one request from the HHO; it wasn't about that incident.
As the hearing today drew to a close, prosecutor Gustafson began cross-examining the witness.