Home
BEATEN BY FORMER COLLEAGUES
Former police inspector, a Bosnian Croat, described at the trial of Bosnian Serb police officials Mico Stanisic and Stojan Zupljanin how his fellow police officers regularly beat him during the six months he spent in a series of detention centers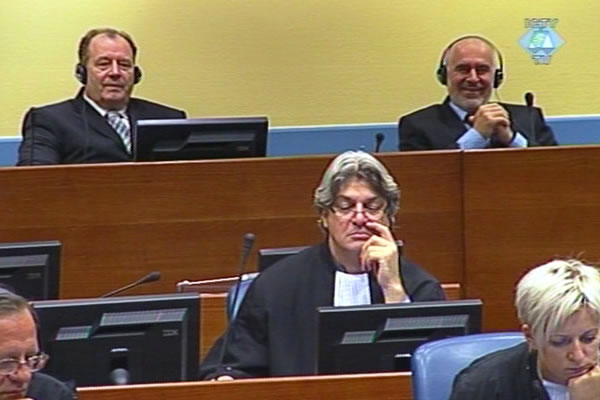 Mićo Stanišić i Stojan Župljanin u sudnici Tribunala
Former police inspector gave evidence at the trial of Bosnian Serb police officials Mico Stanisic and Stojan Zupljanin about the time he spent in Serb captivity in 1992. The witness was protected, and testified with voice distortion under the pseudonym ST-27. Most of his examination-in chief went on in closed session.
Until mid-1992, the witness, a Bosnian Croat, was deputy commander of the police station in a town in BH; the name of the town was not disclosed because the witness was protected. In March 1992, when the chief of the local police, an ethnic Serb, relieved the Muslim commander of the police station of his duty, the witness served as the commander for the next two months. In June 1992, the witness was arrested and spent the next five months in detention, in various locations: a civilian prison, a police station, an elementary school and finally, in a military prison where he was exchanged in late November 1992. During his stay there he was regularly heavily beaten by uniformed policemen, members of special units. Sometimes he was beaten until he lost consciousness.
During his four-month detention in the civilian prison, an indictment was read to the witness; he was charged with organizing armed rebellion against the legitimate authorities. The witness was never tried. When he was about to be exchanged he received a decision stating that the investigation showed there were no grounds for criminal proceedings against him, and that the witness had no right to file an appeal because he had allegedly waived that right. The witness contends that he never 'knowingly' waived his right to appeal. The witness doesn't know what happened with a blank piece of paper he was forced to sign while he was in prison.
Starting his cross-examination, the defense counsel of Mico Stanisic, who served as Bosnian Serb interior minister, implied that the Crisis Staffs, established in 1992 pursuant to the law, were authorized to manage the police and had more power in the decision-making than the interior minister. The defense counsel also noted that the decision to subordinate the police to the army was in force during the state of war. According to the decision, the supreme commander of the armed forces made decisions on the use of the police force, not the interior minister. The witness agreed that this was 'possible' under the law.
The cross-examination continues on Monday.