Home
STANISIC AND ZUPLJANIN TRIAL TO OPEN ON 14 SEPTEMBER 2009
At the pre-trial conference, the Trial Chamber confirmed that the trial of Mico Stanisic, interior minister in the first Bosnian Serb war government, and Stojan Zupljanin, former chief of the Security Services Center in Banja Luka will begin on Monday, 14 September 2009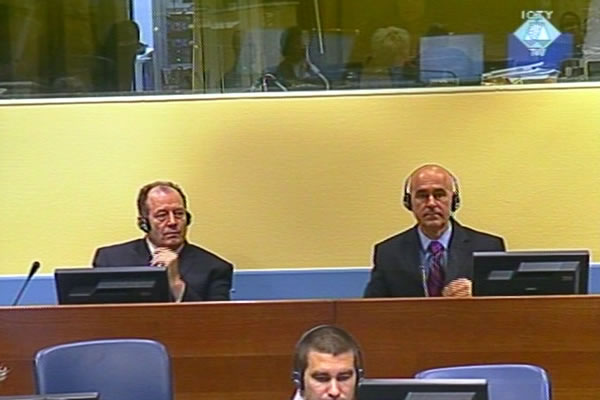 Mićo Stanišić i Stojan Župljanin u sudnici Tribunala
Despite the defense motion for postponement, the trial of former Bosnian Serb police officials Mico Stanisic and Stojan Zupljanin will start on Monday, 14 September 2009, as indicated earlier.
At the pre-trial conference today the Trial Chamber with judges Burton Hall, Guy Delvoie and Frederik Harhoff decided to grant the prosecution 212 hours for its case, and allow it to call 131 witnesses. As the Trial Chamber estimated, the prosecution should complete its case by 1 April 2010. The prosecution had asked to call 162 witnesses in 292 hours.
The prosecution's opening statement is planned to take two days; the first witness will be called on Wednesday, 16 September 2009. The first to testify will be prosecution experts Robert Donia, Christian Nielsen and Patrick Treanor.
The Trial Chamber ordered the prosecution to submit an amended indictment with seven incidents deleted from it by 10 September 2009. The incidents concern the abuse and murder in detention facilities in the territory under the jurisdiction of the accused.
As today's pre-trial conference neared its end the two accused stated that they are 'in good health' having no objections at conditions in the UN Detention Unit.
Stanisic and Zupljanin are charged with taking part in a joint criminal enterprise from April to late December 1992, aimed at 'eliminating and permanently removing Bosnian Muslims and Croats from parts of BH'. In 1992 Stanisic was interior minister in the first Bosnian Serb war government. As a member of the Crisis Staff of the so-called Autonomous Region Krajina and the chief of the Security Services Center in Banja Luka, Zupljanin was Stanisic's immediate subordinate.