Home
KARADZIC WONDERS WHY HE HAS BEEN INDICTED DESPITE SO MUCH EXCULPATORY EVIDENCE
After the prosecution disclosed 175,000 pages of 'potentially exculpatory material', the accused said he was amazed he had been indicted despite all that material. The Swedish ambassador informed the Trial Chamber that Minister Bildt 'has no information on the alleged immunity agreement'. Judge Bonomy nevertheless believes that it 'would be worthwhile' for the minister to agree to talk about this issue with Karadzic's associates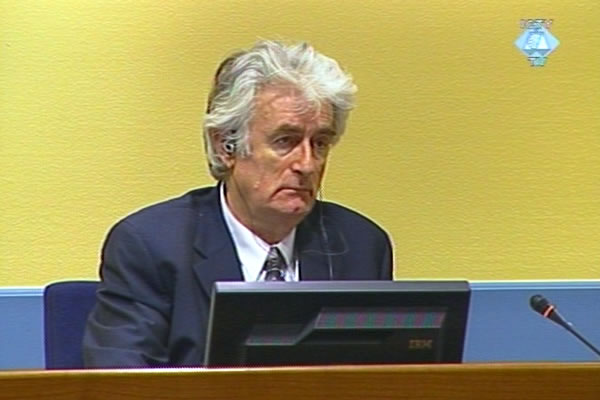 Radovan Karadžić u sudnici Tribunala
Although there are no legal restrictions against him giving evidence before the Tribunal or being interviewed by Karadzic's representatives, former Swedish foreign minister Carl Bildt believes it 'would be pointless' since he has 'no information on the alleged immunity agreement'. Swedish ambassador to Holland Hans Magnusson said this at today's status conference in the Radovan Karadzic case. Magnusson added that his government failed to see the point in establishing the existence of such an agreement as it 'has no legal effect on the crimes under the jurisdiction of the Tribunal'.
Allowing that the Swedish government's position on the legal effects of the alleged immunity agreement 'may by correct' Judge Bonomy noted that the Appeals Chamber would be the one to decide finally on the matter. Noting that, in his opinion, it would 'be useful if Minister Bildt could meet Mr. Karadzic's associates after all', the judge called the ambassador to 'resolve the issue by mutual agreement' lest the Trial Chamber should get involved and issue a subpoena to the minister, compelling him to give a statement to the accused's assistants.
Although Karadzic said he was 'disappointed [by Sweden's] delaying tactics', which was 'in contrast with the willingness of the USA to cooperate', as the status conference continued it turned out that there had been no progress as regards Karadzic's request to be allowed to interview two other US officials. Also, there has been no progress in relation to Karadzic's request to the UN for documents showing the purported immunity agreement was concluded by Holbrooke 'on behalf of the Contact Group, which was a Security Council body'. Karadzic has yet to receive the transcript of the conversation between former chief prosecutor Louise Arbour and General Wesley Clark he has requested. In the conversation, the former NATO commander allegedly 'anticipated' that Karadzic when he is arrested, will invoke the immunity guaranteed by the USA. The prosecution contends that it has neither the transcript nor any written evidence that such a meeting has taken place.
After an introductory debate on the 'mechanism for obtaining the material related to the immunity issue', the focus turned on to preparations for the trial. Issues such as the status of disclosure, adjudicated facts, the defense pre-trial brief and pending motions were then taken into consideration. Karadzic, who indicated at a previous status conference that he would 'contest everything except weather conditions', today promised on Judge Bonomy's insistence he would consider not contesting some expert reports. At this point, Karadzic will not challenge some 175,000 pages of 'potentially exculpatory material' disclosed by the prosecution. He expressed his amazement that he was indicted in the first place despite all this 'exculpatory material'.
The next status conference has been scheduled for 1 July 2009. The pre-trial conference will be held on 20 July, and the trial may open in late August.