Home
LATEST FIGURES FOR SREBRENICA VICTIMS PRESENTED
As the trial of the seven Bosnian Serbs military and police officers draws to its end, the prosecution has updated the data on the exhumation and identification of Srebrenica victims from July 1995. According to the latest data, 5,358 victims have been exhumed from mass graves; the remains of 648 persons were found on the surface and identified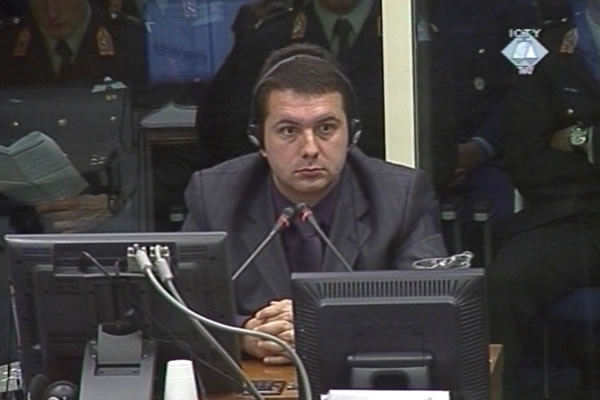 Dušan Janc, svjedok na suđenju sedmorici oficira vojske i policije bosanskih Srba optuženih za zločine u Srebrenici i Žepi
Investigator Dusan Janac and Dr Thomas Parsons, director of forensic research in the International Commission on Missing Persons, testified at the trial of seven Bosnian Serb military and police officers. Through their evidence, the prosecution tried to update the data on the exhumation and identification of victims from Srebrenica in July 1995.
The data on Srebrenica victims were already presented before the Trial Chamber in December 2007 by Dean Manning, head of the Srebrenica investigation team. In the meantime, new exhumations and identifications have been performed and the information has not been updated. According to the report drafted by Dusan Janac, 5,358 victims have been exhumed from the Srebrenica mass graves; the remains of 648 persons have been found on the surface and identified. The unburied bodies were mostly scattered along the route used by some 15,000 soldiers and civilians to head towards Tuzla through woods and mountains. The total number of victims currently stands at 6,006; this figure is not final as exhumations of newly discovered mass graves continue. Some mass graves have yet to be exhumed.
[IMAGE]4077[/IMAGE]As in the cross-examination of Dean Manning in December 2007, the defense contested the updated data on the number and cause of death of Srebrenica victims. The defense also challenges the methodology and conclusions of the prosecution experts. The cross-examination of Dusan Janac by the defense teams of the Srebrenica Seven continues on Monday.