Home
LAUSIC COMPLETES HIS EVIDENCE
Concluding his evidence at the trial of Gotovina, Cermak and Markac, retired general Mate Lausic says he has always told the truth, regardless of his status: witness, suspect 'or maybe at some later time, as an accused'. Why was defense minister Susak described as a man of 'few words and fierce grimaces'?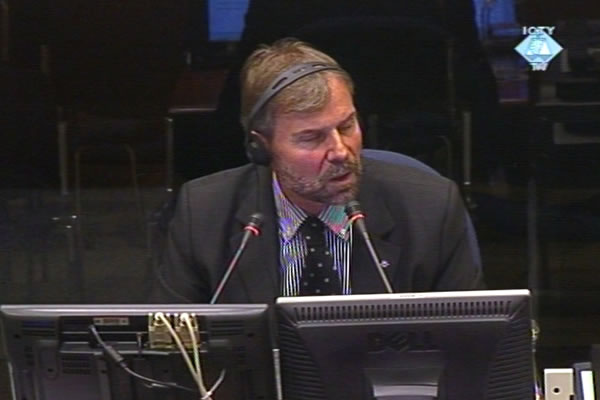 Mate Laušić, svjedok na suđenju Gotovini, Čermaku i Markaču
After seven full working days, former chief of the HV military police administration Mate Lausic completed his evidence at the trial of generals Gotovina, Markac and Cermak. The three generals are indicted for crimes against Serbs during and after Operation Storm in August 1995. In his evidence before the Trial Chamber and in his statement to the OTP investigators in 2004, retired general Lausic didn't spare the accused, least of all General Gotovina whom he believed to be responsible for the military police operations in Krajina after Operation Storm and for the failure to implement disciplinary measures against perpetrators of war crimes among the HV troops.
On the final day of his testimony the witness was far mellower towards his former superiors, president Tudjman and defense minister Susak. Lausic was at one time head of Tudjman's security, and defense minister Susak was in charge of the military police administration. The indictment against the three generals lists Tudjman and Susak as participants of the joint criminal enterprise aimed at 'the permanent removal of the Serb population from Krajina'. Lausic may well be among the remaining participants since the list includes 'officers and members of the HV military police'. Lausic held the top position in the military police.
When Markac's defense counsel Goran Mikulicic asked Lausic if he was ever given a formal or informal order to commit crimes against Serbs in Krajina, the retired general said that neither Tudjman nor Susak ever ordered him to do anything that would be 'contrary to my understanding of ethics and professionalism'. They wanted perpetrators punished, Lausic claimed.
The witness particularly praised Susak's conduct when he was told about the crimes against Serbs, saying that Susak called for 'vigorous action of the military police' and punishment of perpetrators within the HV. 'He was a man of few words and fierce grimaces that left you in no dilemma as to what he wanted to tell you', Lausic said. Contrary to what former international observers testifying for the prosecution have said in their evidence about the military police attitude after Operation Storm – they described it as anything but 'vigorous', Lausic argued that Susak's order was obeyed. According to him, it was corroborated by the statistics he presented in a document dated 16 September 1995; 321 crimes had been prosecuted until that date, with 353 perpetrators, including 79 HV personnel.
As the hearing drew to a close, Lausic replied to a question nobody in the courtroom had actually asked. Many of his friends and acquaintances, on the other hand, have asked him 'how will his case that began in 2004 end'. He put all of his professional and intellectual efforts to relay Susak's order about vigorous prevention of crimes and punishment of perpetrators to his subordinates, Lausic said. The question is, he went on to say, what the success rate was. Nevertheless, 'nobody can deny' that he has always told the truth, regardless of his status: witness, suspect
'or maybe at some later time as an accused'
. Lausic was first interviewed by the OTP investigators in May 2004 as a suspect; in August 2004 he gave his second statement as a witness and he was told later that he might be investigated by the Croatian judiciary.