Home
DEFENSE: 'GOTOVINA WAS UNAWARE OF CRIMES'
The defense has tried to prove that Lausic was not entirely correct when he said there was general awareness of the widespread looting and burning down of abandoned Serb houses in Krajina after Operation Storm among the top military people. According to defense counsel Misetic, General Gotovina was among those left in the dark. Former military police administration chief Mate Lausic has begged to differ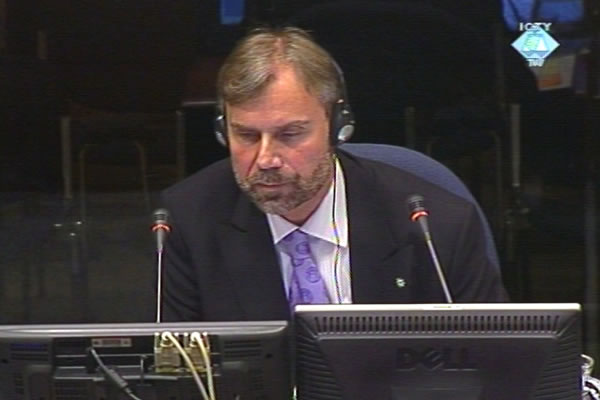 Mate Laušić, svjedok na suđenju Gotovini, Čermaku i Markaču
Defense counsel Luka Misetic continued his cross-examination of retired general Mate Lausic, claiming that the witness, who was chief of the military police administration in the HV at the time, had command over military police units in Krajina during and after Operation Storm, in the summer of 1995. Ante Gotovina, Ivan Cermak and Mladen Markac are charged with numerous crimes committed in that period. In his examination-in chief, the prosecutor showed Lausic's order of 2 August 1995 subordinating military police units to the military district commanders during Operation Storm. At that time General Gotovina was the commander of the Split Military District.
The defense counsel implied that Lausic exercised command through Major Ivan Juric whom he had appointed as coordinator of military police units in Krajina. Misetic showed several documents indicating that Lausic was issuing tasks to Juric in August 1995, and then asked the witness if it could be argued that the military police 'was not completely subordinated' to General Gotovina. 'Military police commanders had to obey my orders as well as the orders of General Gotovina', Lausic replied, adding that his orders had to do with 'providing assistance' to the units unable to execute tasks assigned to them by a military district commander.
The defense also tried to prove that Lausic's claim about general awareness among the top military people of the widespread looting and burning down of abandoned Serb houses in Krajina was not entirely correct. In an effort to prove that the information about crimes did not reach General Gotovina, the defense counsel showed several reports drafted by Major Juric and General Lausic himself on the widespread arson and looting of Serb houses. Those reports were addressed to various high-ranking military commanders but not to General Gotovina. The accused general was informed about the crimes through the regular channels, i.e., daily reports submitted by the commander of the 72nd Military Police Battalion Mihael Budimir, Lausic explained.
The defense counsel showed several daily reports detailing petty crimes perpetrated by the HV personnel; there is no mention of crimes against Serb civilians and their property. Lausic then brought up his order of 2 August 1995 whereby the military police is subordinated to the Split Military District under Gotovina's command. The document states that the commander of the 72nd military police battalion is obliged to report to the military district commander all incidents in Krajina 'in writing and orally'. 'Budimir should be asked if he reported to Gotovina in writing or orally and I know that he gave evidence as a witness in this trial', Lausic concluded.
The cross-examination continues tomorrow.