Home
WITNESS: 'CERMAK COMMANDED MILITARY POLICE TOO'
In the statement he gave to the OTP investigators, retired HV general Mate Lausic maintained that General Ivan Cermak was also in command of the military police in Krajina after Operation Storm. One company from the 72nd Military Police Battalion was subordinated to Cermak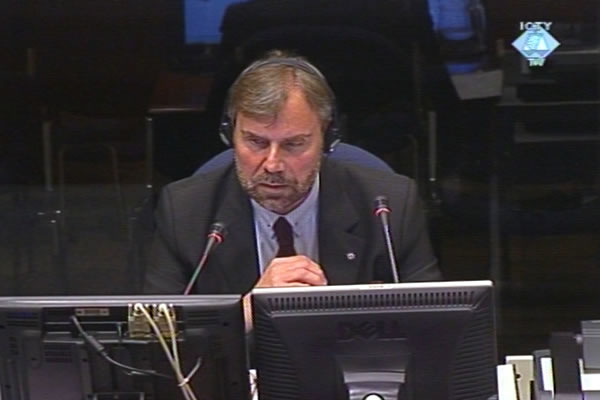 Mate Laušić, svjedok na suđenju Gotovini, Čermaku i Markaču
The cross-examination of the former HV military police chief Mate Lausic by General Gotovina's defense ended as it had begun four working days ago: defense counsel Luka Misetic kept saying that the witness had had operative command of the military police and the witness stubbornly repeated the claims he had made in his statement to the OTP investigators in 2004. At that time, Lausic claimed that during and after Operation Storm the military police was under the command of Ante Gotovina, who is on trial together with Ivan Cermak and Mladen Markac for crimes against Serbs and their property in the summer and autumn of 1995.
If the Croatian judiciary takes notice of what Gotovina's defense brought up in its cross-examination, General Lausic might easily find himself in an unenviable position. Defense counsel Misetic showed a series of documents which clearly point that Lausic had regularly received reports about crimes and that orders he had issued to the military police could be considered operational and not auxiliary orders, as Lausic wanted to present them. If, on the other hand, the Trial Chamber accepts at least some of General Lausic's claims, it might significantly weaken Gotovina's position, since Lausic identified Gotovina as the commander of the military police and person responsible for the failure to implement preventive disciplinary measures in the units subordinated to the Split Military District. Those disciplinary measures might have prevented the crimes.
According to Lausic, the military police in Krajina – or at least a smaller part – was also under the command of Ivan Cermak, the Knin Garrison commander. Lausic told the OTP investigators that a military police company in Knin was under Cermak's command. This unit was sometimes referred to in documents as 'the joint company'. That is why Cermak had to dispatch military police from that unit to investigate any reports about crimes committed in Knin and its surroundings. After that, Cermak would have to report the crime to General Gotovina.
At the start of his cross-examination, defense counsel Stephen Kay tried to contest the witness's claims contending that the order subordinating the Knin company to General Cermak had never actually been implemented. Even though Lausic had issued this order, Kay argued, it could not have been implemented until it was confirmed by the commander of the 72nd Military Police Battalion deployed in Krajina. Lausic was not able to tell if his order had been 'confirmed' or not.
As the defense counsel also noted, Cermak didn't receive the order issued by the 72nd Military Police Battalion commander appointing HV officer Orsolic commander of the joint company. When he was asked if it would have been of 'utmost importance' for Cermak to be informed about the appointment, the witness said that he could give an answer only if he 'knew' that Cermak really had not 'in any form whatsoever' been informed about the new company commander.
Defense counsel Kay will continue cross-examining Mate Lausic tomorrow.