Home
PUHOVSKI: 'OPERATION STORM EFFECTS TANTAMOUNT TO ETHNIC CLEANSING
In his evidence as a prosecution witness at the trial of Croatian generals Gotovina, Cermak and Markac, former president of the Croatian Helsinki Committee Zarko Puhovski has said that there were 'very serious violations of human rights' during and after Operation Storm – hundreds of civilians were killed and thousands were expelled from their homes. This has led Puhovski to conclude that the 'effects of Operation Storm were tantamount to ethnic cleansing'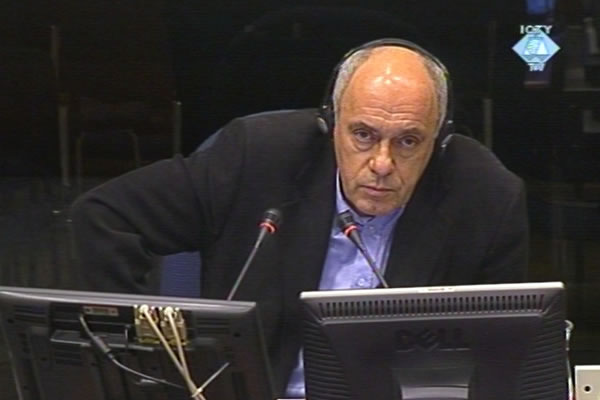 Žarko Puhovski, svjedok na suđenju Anti Gotovini, Ivanu Čermaku i Mladenu Markaču
The trial of Croatian generals Gotovina, Cermak and Markac continued today after a seven-day break with the evidence of Zarko Puhovski, former president of the Croatian Helsinki Committee. After the two statements he has given to the OTP investigators since 2007 were tendered into evidence, the prosecutor for the most part asked Puhovski about a report drafted by the Helsinki Committee on the crimes perpetrated by the Croatian Army and police in the summer and autumn of 1995 in Krajina. The report was finished and published in 1999 and in 2001 it was edited and printed in a book
Oluja - Military operation and its consequences
.
In the conclusion, Puhovski says Operation Storm was 'justified' because its objective was to eliminate the so-called Republic of Srpska Krajina, 'an entity based on systematic human rights violations'. Puhovski nevertheless warned that during and after the operation 'there were very serious human rights violations': hundreds of civilians were killed and thousands 'were forced to flee their homes'. Puhovski today repeated his conclusion that the 'effects of Operation Storm are tantamount to ethnic cleansing'.
Professor Puhovski emphasizes in his conclusion that another reason why Operation Storm must be 'seen as negative ' is the decision of the authorities to allow Croatian refugees from BH to settle the properties of Serb refugees immediately after the operation. Explaining this claim today, Puhovski said that in the summer of 1995 the prevailing public opinion was that 'everything is over' and that Serbs would never return to Croatia. Local authorities issued certificates to Croatian refugees enabling them to legally settle in abandoned houses. According to Puhovski, more than 200 Serbs contacted the Croatian Helsinki Committee, telling the activists that upon returning home they encountered persons in their property 'waving their permits' issued by local authorities.
No one in Croatia denied that there was widespread looting and burning of Serb houses after Operation Storm. General Ivan Cermak himself didn't deny this at a meeting with the delegations of the Croatian Helsinki Committee and the International Helsinki Federation in mid-August 1995 in Knin, the witness noted. Puhovski's colleagues told him about the meeting in detail, saying that Cermak had promised them at the end of the meeting he would do all he could to stop such behavior. Petar Mrkalj, executive director of the Croatian Helsinki Committee, felt this was an insincere 'parting phrase'.
Zarko Puhovski's examination-in chief will be completed tomorrow. According to the defense counsel, his cross-examination might spill over into next Monday.