Home
GENERAL LAUSIC: FROM SUSPECT TO WITNESS AND BACK
At the insistence of the defense teams representing generals Gotovina, Cermak and Markac, former chief of the HV Military police Administration Mate Lausic started his evidence by describing the timeline of his meetings with OTP representatives since May 2004. The presiding judge then warned Lausic he was entitled to protection against 'forcible self-incrimination'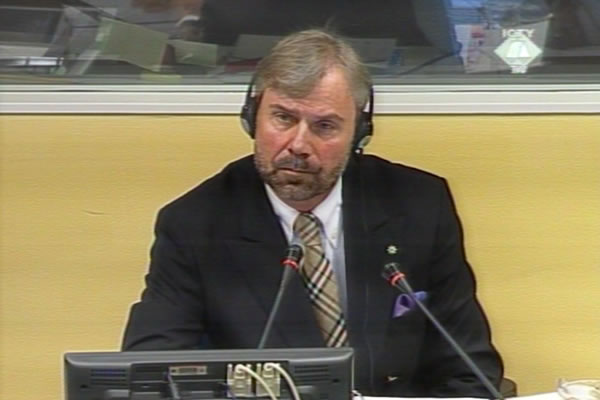 Mate Laušić, svjedok na suđenju Gotovini, Čermaku i Markaču
The trial of generals Ante Gotovina, Ivan Cermak and Mladen Markac continued today with the evidence of retired Croatian general Mate Lausic. During Operation Storm, in the summer and the fall of 1995, when the crimes alleged in the indictment were committed, Lausic was chief of the Military Police Administration in the Croatian Army. During the trial, the prosecutor has been trying to prove that the military police for the most part stood by as abandoned Serb houses were being looted and burned down all over Krajina, doing nothing to prevent crimes and bring perpetrators to justice. As alleged by the prosecution, the hands of the Split Military District commander Ante Gotovina and Knin garrison commander Ivan Cermak had control over the military police. According to the defense, the Military Police Administration and its chief, General Lausic, were responsible for what the military police did.
Lausic was first interviewed by the OTP investigators in May 2004 as a suspect. When he was interviewed the second time in August 2004, his witness statement was drafted based on his previous interview which was videotaped and audio recorded. Lausic thus became a 'witness' and was not a 'suspect' anymore. The situation however changed in December 2008 when the OTP investigators called him for another interview. He was then told, as Lausic explained today, that he was to be interviewed again as a suspect and that his interview would be taped but not for the OTP, but 'because of their obligation to Croatian judicial bodies'. Lausic refused to meet them under such conditions and the investigators decided not to interview him.
As the defense teams insisted on establishing Lausic's exact status, the witness recounted the timeline of his meetings with the OTP investigators. The defense contended that the Trial Chamber should take the words of a suspect 'with a grain of salt', as he might be tempted to shift the responsibility to somebody else through his evidence. Although General Lausic said 'my story is always the same' regardless of his status, presiding judge Orie warned him he was entitled to protection against 'forcible self-incrimination'. According to the rules of the Tribunal, Lausic is not compelled to answer any questions if he considers his answers might incriminate him.
At the beginning of the hearing today, the witness was allowed to correct errors in his statement to the investigators, and he proceeded to do so with great enthusiasm for next two hours. When all administrative questions were covered, prosecutor Tieger had just enough time to ask Lausic a few questions about the sixty-odd page statement he gave in 2004. Lausic's examination-in chief continues tomorrow.