Home
WITNESS: 'NO HOUSES LEFT TO LOOT AND BURN IN KRAJINA'
Hussein Al-Alfi, highest ranking civilian representative of the UN mission in Krajina, claims that in August and September 1995 he and Sector South commander General Forand regularly reported numerous crimes in Krajina to the Knin 'military governor', Ivan Cermak. After that, the witness said, the things changed because there were 'no more houses left to burn and loot'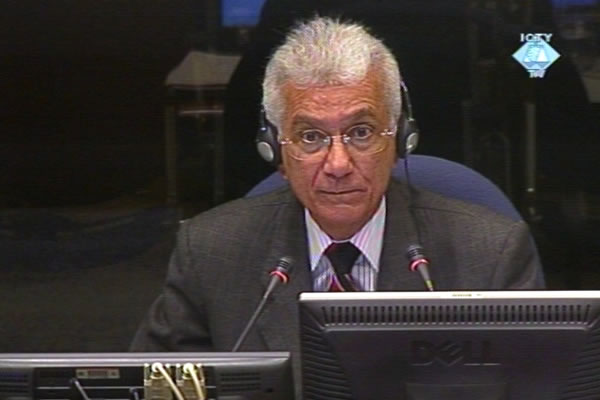 Hussein Al-Alfi, witness in the Gotovina, Cermak and Markac trial
'Ivan Cermak denied the crimes against the Krajina Serbs. Yet at the same time he told international representatives that such behavior would stop'. This is how former coordinator of the Krajina UN Mission for civilian affairs Hussein Al-Alfi summarized his experience from the meetings he and Sector South commander General Alain Forand had with the accused general Cermak. Together with Ante Gotovina and Mladen Markac, Ivan Cermak is charged with crimes committed during and after Operation Storm in August 1995.
Soon after Operation Storm, the Croatian authorities informed the international representatives that Cermak was appointed 'military governor' of Knin and its environs, the witness recounted. Because of that, the witness said, highest ranking UN representatives talked only to Cermak about human rights violations they recorded in the field. They did meet the Knin mayor a few times, but, as Al-Alfi put it, they soon realized that it was 'a waste of time'; the first man in Knin would either tell them to talk to Cermak or said that he himself would forward their objections to Cermak.
The prosecutor showed a number of reports drafted by Al-Alfi in August and September 1995. In those reports, the witness described meetings he and general Forand had with Cermak saying that they regularly informed Cermak about numerous murders, looting, arson and other violations of human rights in Krajina. According to the witness, the general never said he was not authorized to deal with those problems. Quite the opposite: he promised to take measures to prevent crimes and punish perpetrators. Al-Alfi didn't know it something was done about it, but he claims there were no major changes in the field. In other words, the witness said, the situation changed from 'a lot of looting and burning to no houses left to loot and set on fire'.
The witness was today shown a letter to Cermak sent at the end of his term of office. In it, Al-Alfi thanked Cermak for their good cooperation, praising his 'professionalism, sense of responsibility and dedication to finding solutions to the problems in Krajina'. Commenting on the letter, Al-Alfi said he saw 'nothing bad' in it; as he put it, the Croatian general showed his professionalism and sense of responsibility because he was ready to listen to Al-Alfi and other international representatives. This doesn't mean however that Cermak took sufficient measures to prevent crimes in Knin and its environs, the witness concluded.
As the hearing today drew to a close, Cermak's defense counsel Kay began cross-examining the witness. The witness's examination will take the whole day tomorrow, it was indicated.