Home
GOTOVINA DISTANCES HIMSELF FROM CERMAK
In the additional cross-examination of prosecution expert Reynaud Theunens, Ante Gotovina's defense has tried to prove that after Operation Storm Gotovina didn't have command authority over the Knin Garrison and its commander Ivan Cermak. Josip Turkalj, former commander of the Lucko Anti-Terrorist Unit, has begun his evidence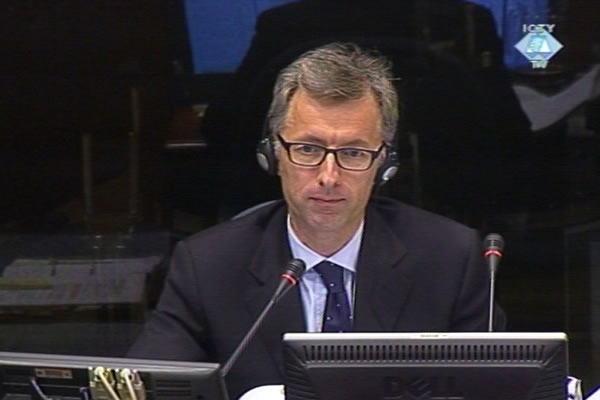 Reynaud Theunens, witness in the Gotovina, Cermak and Markac trial
Since the Trial Chamber granted Gotovina's defense permission to ask additional questions in the cross-examination of prosecution military expert Reynaud Theunens, Luka Misetic today tried to prove that his client had no command authority over the Knin Garrison. In the summer of 1995 the second accused Ivan Cermak was the commander of the Garrison. Gotovina and Cermak are charged together with Markac with the crimes committed during and after Operation Storm in August 1995.
In the expert report he drafted about the organization and operation of the Croatian armed forces Theunens maintained that 'according to the military doctrine' garrisons were always subordinated to military districts. However, he contended, in the summer of 1995 the relationship between Cermak and Gotovina 'was not quite clear'. The defense counsel showed a document in which Gotovina 'asks' Cermak to 'accommodate him' about some issues. According to the defense counsel, the document implies that this was not a relationship of a subordinate and his superior. When the defense counsel asked the Belgian expert if he had ever found a document where Cermak reported to Gotovina about his meetings with the UN representatives, he said he hadn't. According to the evidence of previous witnesses, Cermak was informed about the crimes against Serb civilians and their property in Krajina in the summer and autumn of 1995.
Defense counsel Misetic supplemented his argument by putting to the witness that Gotovina never received reports about crimes from any other parties, such as Mate Lausic, chief of the HV Military Police Administration, or from the UN mission. The witness agreed, adding that Gotovina knew about crimes because the Split Military District operational logbook indicates Gotovina was informed about that by his subordinate officers at meetings.
[IMAGE]3828[/IMAGE]Theunens completed his evidence after 15 days in court – three full working weeks at the Tribunal. After Theunens, the prosecutor called Josip Turkalj, the commander of the Croatian MUP rapid reaction police unit. At the beginning of his testimony, Turkalj said that he stood by the statement he gave in February 2004, adding that he 'believes' he would give the same answers in the courtroom as he had done when interviewed by the investigators in March 2005. The interview was videotaped and the transcript was admitted into evidence. After the prosecutor asked a few questions, the hearing ended. Turkalj will continue his evidence tomorrow.