Home
DEFENSE DENIES COVER-UP OF GRUBORI CRIMES
Former commander of the Lucko unit of the Croatian special police maintains that today, 13 years after the murder of five elderly civilians in the village of Grubori in Krajina, he 'doesn't have specific information' that it was a crime and who committed it. The witness denies that the Croatian police leadership ordered a cover-up or the incident in the village of Grubori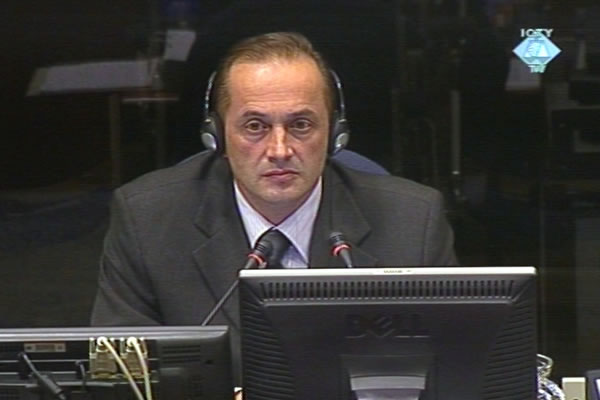 Josip Turkalj, witness in the Gotovina, Cermak and Markac trial
Since the beginning of the trial of Croatian generals Gotovina, Cermak and Markac, the prosecution has been trying to prove that the Croatian special police murdered five elderly Serb civilians in the village of Grubori in Krajina on 25 August 1995. The perpetrators allegedly took part in the clean-up operation in the Plavno Valley. On the other hand, the defense has stuck to the official Croatian police documents indicating that the civilians were killed in the cross-fire between the specials and 'remaining Serb terrorists'. Josip Turkalj, former commander of the Lucko anti-terrorist unit, came to The Hague to testify for the prosecution. He nevertheless tried hard to confirm the arguments of the defense of General Mladen Markac, his erstwhile commander. As he contends, today – 13 years after the incident in Grubori – he has 'no specific information' that it was indeed a crime and who committed it.
When the defense counsel asked him if he had ever received an order from the police leadership to cover-up the incident in Grubori, the witness denied it, adding that he had no knowledge that any of his colleagues had been pressured to do so. However, one of Turkalj's colleagues, Josip Celic, said in his evidence that the day after Grubori incident he had been ordered to modify his first report, where he had stated that there had been no fighting during the operation. Zeljko Sacic, Special Police chief of staff, told Celic in presence of General Markac, who commanded the Croatian special police, to draft a new report in which he would say that there had been an exchange of fire in Grubori. Sacic then took Celic to another room where he dictated the contents of that report word by word.
In his evidence Celic said that some days after his meeting with Markac and Sacic he went to Zagreb on Turkalj's orders and there signed a re-typed version of the report Sacic had dictated to him. Turkalj however claimed that he had never pressured anybody about the incident in the village of Grubori. Celic drafted his report 'as he saw fit', he said.
As the hearing today drew to a close, Turkalj was cross-examined by General Ivan Cermak's defense counsel. When he visited Grubori in late August 1995, he got impression that there had been combat operations in the village, Turkalj said. Immediately after the incident, speaking in front of the Croatian and UN TV cameras, Cermak denied that the civilians had been killed at point-blank range. He claimed that 'anti-terrorist operations' had been conducted in that area.