Home
FORENSIC FINDINGS FROM THE KNIN CEMETERY
According to British pathologist John Clark, most of the 245 victims whose remains were exhumed from the Knin cemetery after Operation Storm were killed by firearms, in some cases by a single shot to a head. Gotovina's defense counsel claims all were killed in combat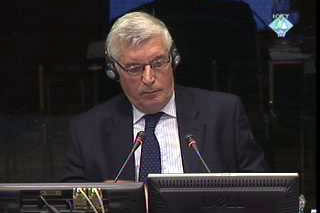 John Clark, svjedok na suđenju Gotovini, Čermaku i Markaču
The trial of Croatian generals Ante Gotovina, Ivan Cermak and Mladen Markac, charged with crimes during and after Operation Storm in August 1995, continued with the evidence of British pathologist John Clark. From 1999 to 2001, Clark lead an expert team that conducted post mortems of the bodies exhumed from four graves in the Knin city cemetery. Because the defense of general Gotovina objected to the admission into evidence of the expert report drafted by Dr. Clark at the behest of the prosecution, the Trial Chamber will decide later whether it will be admitted or not. The presiding judge did indicate that the objections raised by the defense were not sufficient for the dismissal of this document.
In his report Clark stated that about 300 bodies of Krajina Serbs were found in the Knin cemetery; 245 died a violent death. According to the British pathologist, 202 victims were killed by firearms. The rest were killed by artillery shells or died in some other way. Cause of death was not established for 35 victims. The prosecutor showed a number of photographs taken during the post mortem examinations, showing gunshot wounds to the skulls and torsos of the victims. The witness assumed that one of the victims had been killed by a machete or similar sharp object.
In his cross-examination Gotovina's defense counsel Kehoe put it to Dr Clark that most of the victims exhumed from the Knin cemetery had gunshot wounds to their torsos, which would indicate, Kehoe argued, that they had been killed in combat. The British expert told him that this might be said for a certain number of victims, but, he went on to say, there were cases when the victims had only a single gunshot wound to the head. In his opinion, this is not consistent with injuries sustained in combat.
Defense counsel Kehoe went on to read part of Clark's report where he says that in most cases he and his colleagues were not able to determine if gunshot wounds had been sustained prior or after death. The witness replied that he was careful in drafting his report. However, where there were visible gunshot wounds the witness 'assumed' they were the cause of death. Dr Clark refrained from commenting on the defense counsel's claim that some of victims from the Knin cemetery had been killed before Operation Storm, saying that he and his team didn't gather such that kind of information.
John Clark's cross-examination continues tomorrow.