Home
PROSECUTION: GOTOVINA 'INCITED' CRIMES BY DOING NOTHING
As he continues his evidence at the trial of the three Croatian generals, Belgian military expert Reynaud Theunens says that measures taken by Ante Gotovina, Split Military District commander, to prevent the looting and arson in Krajina 'were not effective'. Failing to take measures against perpetrators 'incites' further crimes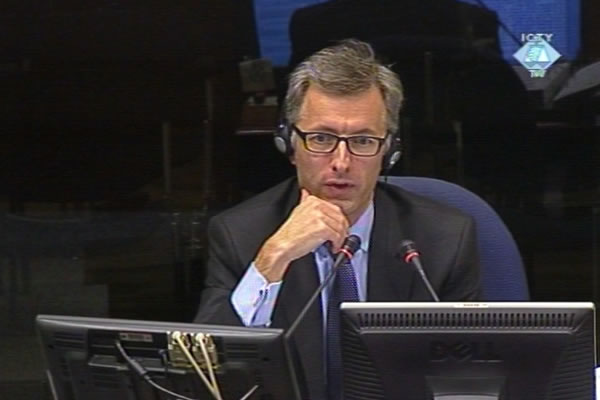 Reynaud Theunens, witness in the Gotovina, Cermak and Markac trial
Based on the documents available to him at the time when he drafted the expert report on the structure and functioning of the Croatian armed forces, prosecution expert Reynaud Theunens concluded that measures Ante Gotovina took were 'not effective enough' to prevent the looting and arson of Serb houses in Krajina after Operation Storm'. As Theunens said, in August and September 1995 the accused general was told that soldiers under his command were committing crimes in towns and villages throughout Krajina.
The prosecutor showed a report from the HV General Staff about a tour of the Split Military District units – under Gotovina's command. The report notes that because of 'the failure to punish those responsible', the looting and occupation of abandoned buildings in Krajina 'still persist'. Commenting on the document, Theunens said that in the military doctrine it was well-known that failure to take measures against perpetrators 'serves to incite' further crimes.
In order to highlight the measures that could have been taken to bring order to the liberated area, the prosecutor showed Gotovina's order of 22 September 1995 demanding that curfew be introduced. However, the document referred to Jajce, a municipality in BH. The witness on the other hand said that he couldn't remember having seen any similar documents originating from General Gotovina's HQ that would pertain to Krajina. Defense counsel Misetic objected, asking Theuens to specify the law that would empower Gotovina to impose curfew in Croatian territory. The witness's reply was that he was merely providing his interpretation of disciplinary regulations; he was not familiar with the relevant legislation.
As the examination-in chief drew to its close, the Belgian expert briefly mentioned reports that pertain to the two other accused generals charged with crimes against Krajina Serbs and their property during and after Operation Storm. The documents he had at his disposal led him to conclude that Ivan Cermak was the commander of the Knin Garrison, but that he played a dual role. First, the witness maintained, Cermak was in charge of the establishment and functioning of the 'civilian and military authorities' in the Knin area. At the same time, Cermak was the person in charge of cooperation with the representatives of the international community in Sector South in Krajina.
The documents from the Croatian Interior Ministry, Theunens noted, clearly show that the special police in Krajina was under the command of Mladen Markac, deputy interior minister during and after Operation Storm. In order to corroborate his allegations the witness showed a number of orders Markac issued to the Croatian special units.
Ante Gotovina's defense counsel began his cross-examination of the witness today.