Home
'ORGANIZED DISMANTLING OF THE TOWN'
Describing the situation in Knin following the arrival of the Croatian forces in August 1995, Murray Dawes said that personal belongings of the Serbs who had fled the town was taken out of their houses. Worthless items were neatly placed in one spot, and various appliances and other valuables were put in another area and were then taken away by military trucks. Dawes served as a civilian logistics officer in the UN at the time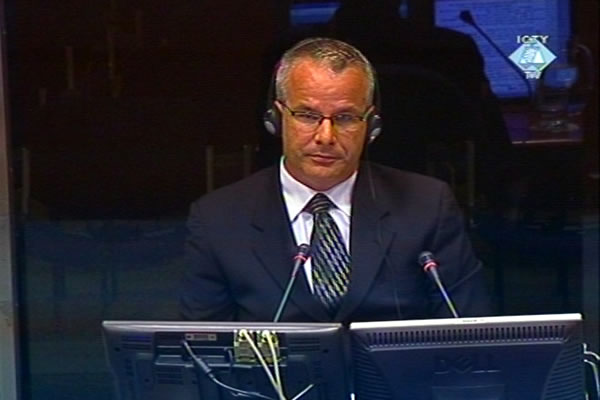 Murry Dawes, witness in the Gotovina trial
Before Operation Storm was launched in August 1995, Canadian Murray Dawes worked as civilian logistics officer in the UN mission in Knin. In the statements he gave to the OTP investigators in 1996 and 2008, a summary of which was read today at the trial of Croatian generals Ante Gotovina, Ivan Cermak and Mladen Markac, the witness recounted how he saw dead civilians, looted and burned down houses and the incident when he was wounded during the shelling of Knin by the Croatian Army.
When the shelling of Knin began on 4 August 1995, Dawes left the UN base several times to go into town and assist with the evacuation of the remaining international observers who were in private accommodation. During one of his trips to town, his vehicle was deliberately targeted by the Croatian artillery, he recounted. When he left the car, a shell hit the ground near him. He was hurled down by the explosion. His right arm was wounded slightly. He spent the next day in the UN base watching drunken Croatian soldiers take away the looted TV sets, household appliances and furniture in trucks.
The following day, 6 August 1995, the witness visited the villages of Vrbnik and Kistanje. There he saw Croatian soldiers 'in proper uniforms'. They were 'actively engaged in looting'. The goods were taken away in vehicles with HV license plates. Once the looting was over, the witness said, all the buildings in those villages were burned down, except those marked with the words 'Croatian house'. On his way back to Knin, Dawes claims he saw 15 to 25 bodies, both male and female. This was at the intersection with the road to Srb. He couldn't say anything about how they were killed. The only thing he did notice was that they were killed by small arms.
Back in Knin the witness saw Croatian soldiers taking the personal property of Serbs who had fled from their house. Garbage and worthless items were neatly placed in one spot; various appliances and other valuables were taken elsewhere, loaded onto military trucks and transported somewhere. The witness described the situation as 'organized dismantling of the town'.
Dawes saw systematic looting of property from abandoned houses in the morning of 8 August 1995 on the road from Knin to Drnis; the witness was sent to Primosten to get some drinking water for the UN mission. On his way back, the witness maintains, he saw that the houses that had already been looted were now burning. 'The sky was black, we even had to turn on the headlights because of the soot and dust in the air', the witness described, adding that he is 'not exaggerating' when he said that there were houses on fire all along the Drnis-Knin road.
As the hearing today drew to a close, Ante Gotovina's defense counsel began cross-examining the witness.