Home
RUPERT SMITH: 'BAD ASSESSMENT' OF THE SREBRENICA SITUATION
Former UNPROFOR commander Rupert Smith continues his evidence at the trial of Bosnian Serb military and police officers charged with genocide and other crimes in Srebrenica and Zepa in July 1995. According to him, the situation in the enclaves was 'badly assessed'. The prevailing view was that Mladic only intended to 'narrow the territory' of the protected zone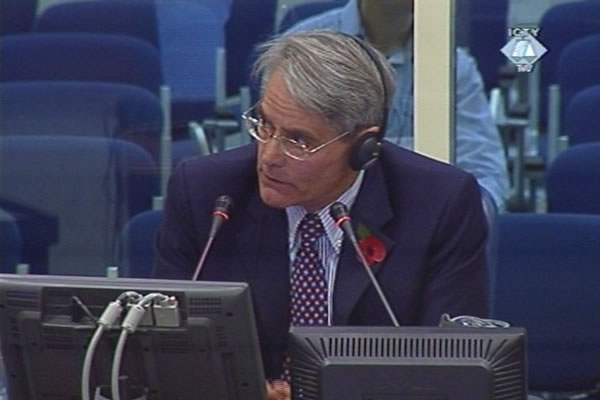 Rupert Smith, witness in the trial of the former Bosnian Serb officials charged with crims in Srebrenica and Zepa
Between early July 1995, when the VRS launched its attack on Srebrenica and late July – when the other UN protected enclave fell – General Rupert Smith, UNPROFOR commander in BH, held a number of meetings with the high-ranking military and political leaders of both the BH Federation and Republika Srpska.
The British general was on a leave of absence when Srebrenica fell and during the aftermath of the fall. He was recalled from the leave, but not because of the attacks on the enclave but in order to meet with the UN Secretary General in Geneva. The purpose of the meeting was to prepare a report on the UNPROFOR activities. According to Smith, who is testifying at the trial of the RS military and police officers charged with the crimes in Srebrenica and Zepa, the situation in the enclave was 'badly assessed'. The prevailing view was that 'the fighting was over just one road' targeted by the BH Army and that Mladic only intended to 'narrow just a little the territory' of the protected zone.
The meetings with the political and military leadership of both factions followed, including a meeting with Slobodan Milosevic and Ratko Mladic in Belgrade on 15 July 1995. It had been organized at the initiative of Carl Bildt, the EU representative for the former Yugoslavia. As Smith recounted, the meeting was 'the consequence of the situation in Srebrenica and the goal was to find a modus operandi with the Bosnian Serbs'. The only result of the meeting: another meeting was scheduled and an agreement was reached to withdraw the Dutch UNPROFOR Battalion from Srebrenica.
The news of the crimes committed after the fall of the enclave hadn't yet reached the UN command in Sarajevo, Smith claims, and his actions were soon focused on the situation in Zepa, taken by the VRS on 17 July 1995.
Smith negotiated with Mladic and other VRS General Staff officers, primarily with Tolimir and Gvero. The main topic was taking care of the population and the UN troops deployed in Zepa. The population of Zepa was evacuated in late July but the British general continued to meet with the Bosnian Serb political and military leaders until September 1995. When Karadzic and Mladic were charged with war crimes in July 1995, Smith asked for instructions whether to continue talking to them. He was given the green light. The explanation was that 'other people are taking care of that'.
General Smith ended his evidence on the facts and will continue to testify as a military expert.