Home
SESELJ'S DISAPPOINTMENT WITH JUDGE ANTONETTI
Seselj continues enjoying favorable treatment from Judge Jean-Claude Antonetti. At the status conference today, Seselj admitted that six months ago he was 'pleasantly surprised' with Antonetti's attitude, but today he was 'shocked' and 'utterly flabbergasted' by Judge Antonetti's 'inapprehensible unbearable' attitude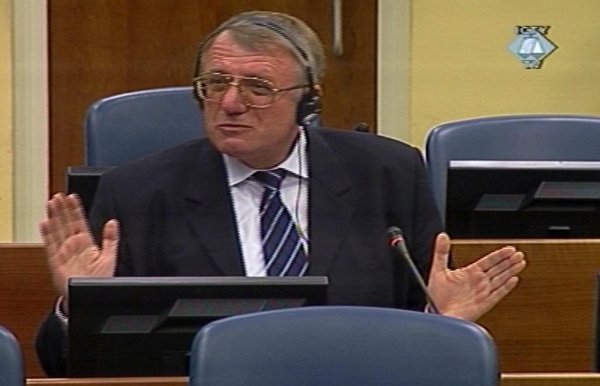 Vojislav Seselj in the courtroom
The trial of Vojislav Seselj, Serbian Radicals leader on charges of crimes against humanity in Croatia, Bosnia Herzegovina and Vojvodina will be held before the Chamber consisting of ad litem judges Flavia Lattanzi from Italy and Frederik Harhoff from Denmark, with French judge Jean-Claude Antonetti presiding. The ICTY president proposed their appointment to the UN Secretary-General, whose decision is expected in the next couple of days.
At the status conference today, a work plan was put together for the period until the end of the year. The pre-trial conference will be held on Tuesday, 6 November. The next day, the prosecution will present its opening statement. The opening statement of the accused is scheduled for 8 November. The trial will then be adjourned until 4 December when the prosecution is expected to call its first witness. There will be six working days until the winter recess: on 4, 5, 6, 11, 12 and 13 December. The Chamber is yet to decide on the time the parties will be allotted for their case, but according to Judge Antonetti's assessment today, the Seselj trial could end by late 2008 or early 2009.
Today, Seselj fiercely opposed the admission into evidence of the witnesses' written statements, saying that they had not been written by witnesses but by prosecutors or investigators without him or his legal representatives being present. In his view, these statements have no value and he doesn't intend to cross-examine the witnesses he suspects of being instructed by the prosecution. Seselj admits he has no proof for this, but he corroborates this with affidavits given by Branko Rakic and Dragoslav Ognjanovic, Milosevic's former legal consultants. They claim that they had 'seriously suspected' the prosecution had been in constant contact with the witnesses. The prosecutors were cueing them as to what answers to give in the cross-examination.
Saying that 'all the prosecution witnesses' were 'false witnesses' and describing witnesses asking for protective measures as 'criminals, scoundrels and cowards', Seselj today attempted to name some of the potential witnesses in open session, but the judge asked for closed session or ordered the redaction of the names Seselj managed to mention before the TV cameras were switched off. Prosecutor Christine Dahl objected several times against Seselj's 'constant attempts of discrediting the witnesses' noting the fact that the accused was using the opportunity to 'send a message to the people prepared to testify in this case that they would be regarded as criminals and scoundrels.'
The French Judge Antonetti remained favorable towards the accused – the accused admitted today he had been 'pleasantly surprised' six months ago by the judge's attitude, but today, Seselj said several times he was 'shocked' and 'utterly flabbergasted' by Antonetti's change of attitude he found 'incomprehensible and unbearable.