Home
SESELJ ENTITLED TO GET DOCUMENTS IN SERBIAN, BUT NOT NECESSARILY IN HARD COPY
The Appeals Chamber dismisses Vojislav Seselj's appeal against the decision the Trial Chamber delivered last year allowing the prosecution to disclose evidence to Seselj in "electronic form" – on compact discs – and ordering the Registry to assist the accused with the "computer hardware, software and training"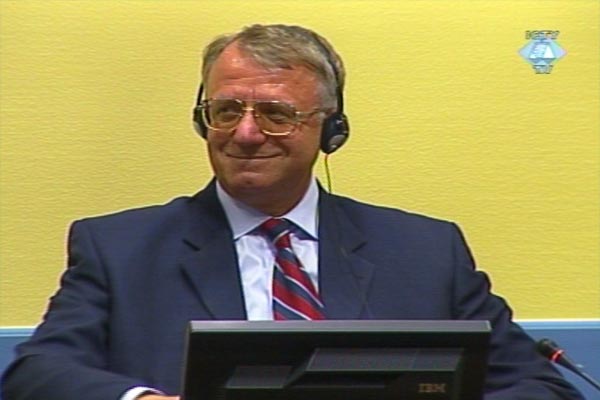 Vojislav Seselj during a status conference
The Appeals Chamber today dismissed the appeal filed by Vojislav Seselj against the decision on the form of disclosed evidence. The decision was rendered by the Trial Chamber presided by Judge Orie on 4 July 2006.
This decision ordered the prosecution to translate the evidence it disclosed to Seselj into Serbian, but the prosecution did not have to give the accused hard copy, as he had requested. The prosecution could disclose the documents in "electronic form", on CDs. The Registry was ordered to assist the accused with "computer hardware, software and training".
Seselj was convinced that this decision of the Trial Chamber was revoked by the "written guarantees" he received from the Registry on 8 December, after his one-month long hunger strike. Among other things, the Registry undertook to deliver the documents to Seselj "in Serbian and on paper" but was quick to clarify that this referred only to the materials originating from the Trial Chamber and not from the prosecution, as it was "not authorized to speak on its behalf". After that, the Trial Chamber issued the order letting the accused know that the "guarantees" he had forced the Registry to give didn't revoke its decision of 4 June 2006 stipulating the form of the disclosure.
Seselj then filed an appeal with the Appeals Chamber asking it to reverse the decision of 4 July 2006. His appeal was dismissed today. This does not mean that Seselj could not ask the new Trial Chamber hearing his case to reverse the current decision on the form of disclosure. The new Chamber consists of Judge Robinson, Judge Bonomy and Judge Antonetti. Judge Antonetti was appointed the pre-trial judge in the case against Seselj, the Serbian Radical Party leader, charged with crimes against humanity in Croatia, Bosnia Herzegovina and Vojvodina.