Home
101 PROSECUTION WITNESSES TO TESTIFY AGAINST VOJISLAV SESELJ
At the pre-trial conference held before the opening of Vojislav Seselj's trial, the prosecution indicates it intends to call 101 witnesses against the Serbian Radicals leader. The examination-in chief of those witnesses is expected to last about 170 hours. The Trial Chamber indicates that the prosecution could count with 120 to 125 hours. The decision on the issue will be communicated to the parties before the opening statement of the prosecution scheduled for tomorrow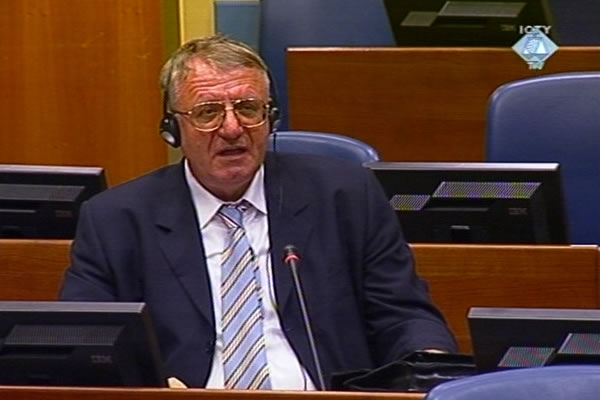 Vojislav Seselj in the courtroom
At the pre-trial conference today, French judge Jean-Claude Antonetti estimated that the trial of Vojislav Seselj, scheduled to open on Wednesday, 7 November 2007, might last until March or April 2009. Antonetti is the presiding judge in the Trial Chamber that also comprises Judge Flavia Lattanzi of Italy and Danish judge Frederik Harhoff.
The prosecution intends to prove Seselj's responsibility for the crimes committed in Croatia, BH and Vojvodina through the evidence of 101 witnesses. Their examination-in chief is expected to take some 170 hours. The presiding judge considers this to be too much time. The Trial Chamber could allot between 120 and 125 hours to the prosecution, he indicated. The decision will be delivered tomorrow before the opening statement of the prosecution. Seselj will be given the same amount of time to cross-examine the prosecution witnesses and the trial will go on only three days a week. This means that the prosecution case will last until late July or early September 2008. If the Chamber doesn't acquit Seselj after the prosecution case because of the prosecution's failure to present sufficient evidence of his guilt, the defense might start its case in September 2008. It would last until March or April 2009. The judgment can be expected in the autumn of 2009.
Seselj will respond to the opening statement of the prosecution, due to be delivered tomorrow, with his own opening statement scheduled for Thursday, 8 November 2007. The trial will then be adjourned until 11 December. The first witness to give evidence will be Anthony Oberschall, a sociology professor from the USA. Oberschall wrote an expert report for the prosecution, explaining the role of propaganda in the wars and war crimes in the former Yugoslavia.