Home
GENERAL LAZAREVIC FIRST TO TESTIFY IN HIS OWN DEFENSE
Vladimir Lazarevic claims he wasn't 'Slobodan Milosevic's personal choice'; after the change of the regime, he was decorated by President Vojislav Kostunica, he notes. He indicates his defense would nevertheless be based on the same argument put forward by Milosevic: Albanian civilians were expelled from Kosovo by the KLA and not by the Serbian security forces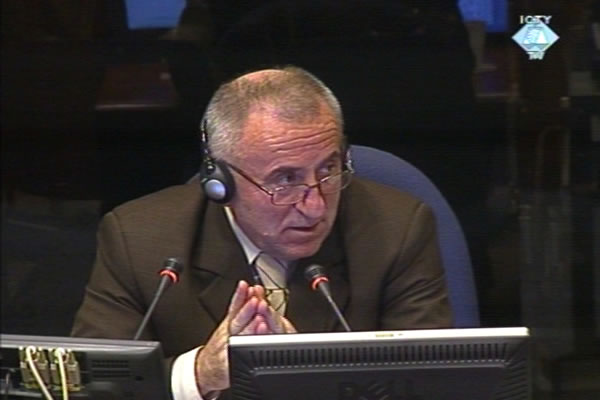 Vladimir Lazarevic testifying in his defense
In the short opening statement today, Vladimir Lazarevic's defense counsel noted that the defense would contest the allegations in the indictment about the existence of a plan to expel the non-Serbian population in order to change the ethnic structure in Kosovo and to establish permanent Serbian control over the province. Since there was no such plan Lazarevic couldn't have taken part in it, his defense claims.
Lazarevic's defense announced it will prove that the accused didn't take part in planning of the crimes against Albanian civilians in the first half of 1999 and the implementation of such a plan. On the contrary, he did everything he could to help take care of the refugees from the war zones. The defense doesn't deny the fact that there were crimes, but claims that they were not systematic, but 'isolated acts' committed by individuals. According to Mihajlo Bakarac, Lazarevic's defense counsel, his client did all he could to avoid crimes against Albanians and to punish any perpetrators.
As the defense counsel recounted, Lazarevic decided to be the first to testify in his own defense, 'just as he was the first in the war, leading his soldiers'. Lazarevic then moved from the dock to the witness stand. He first dismissed the allegation that he had been appointed the Pristina Corps commander as 'Milosevic's choice'. He did admit that he had been officially commended twice, but this was not because Milosevic liked him: he emphasized the fact that he was later promoted by Vojislav Kostunica, who succeeded Milosevic as the federal president.
In his testimony today, Lazarevic indicated that his defense would be based on the argument that the KLA was responsible for the expulsion of Albanian civilians from Kosovo, rather than the Serbian security forces. This is the same argument that Slobodan Milosevic used in his trial. The accused general claims that the Albanians left their houses under KLA pressure. The KLA then launched attacks on the army and the police from abandoned villages. The KLA also 'caused Albanians to immigrate' in order to create the illusion of a humanitarian disaster for which the international community would blame Serbs.
The general's examination-in chief continues tomorrow.