Home
WITNESS "MINDED HIS OWN BUSINESS"
When an attempt was made to use his soldiers in the execution of about 1,000 Muslims captives in Orahovac in July 1995, witness Lazar Ristic didn't do anything. He was "shocked by the way in which it was done", but considered "it" – the execution – to be "out of his remit" and he "minded his own business"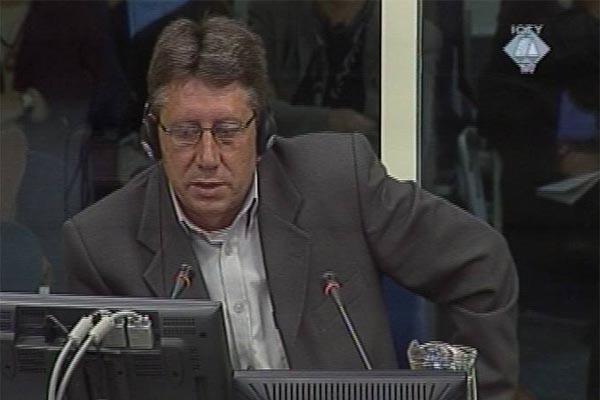 Lazar Ristic, witness in the trial of Vujadin Popovic, Ljubisa Beara, Drago Nikolic, Ljubomir Borovcanin, Vinko Pandurevic, Radivoje Miletic and Milan Gvero
Had their commander been told that they were needed as a "reinforcement" to assist in the execution of Muslim prisoners, the ten or so soldiers of the 4th Battalion in the VRS Zvornik brigade would probably not have been sent to the school in Orahovac. On 14 July 1995 about 1,000 Muslims were held captive there.
Continuing his evidence, Lazar Ristic, the then commander of the 4th Battalion, explained that he would probably have done things differently had he known what his soldiers were needed for. Ristic said that in the cross-examined by the defense counsel of Vinko Pandurevic, former Zvornik brigade commander and one of the seven accused on trial for the for crimes in Srebrenica and Zepa.
According to the indictment, about a thousand Muslims captives were executed near the school in Orahovac. Ristic testified that the soldiers he had sent there had told him that "they were forced to shoot" them. He withdrew them immediately and sent them home.
Ristic said that he was shocked "by the way in which it had been done", but added that it was "beyond his remit". He did not part in it: he just "minded his own business". He argued that Vinko Pandurevic never ordered him to "do something unlawful" or told him how to treat the prisoners of war. It was not necessary, as his battalion was engaged in the defense lines in its area of responsibility.
The defense counsel showed Ristic a number of documents related to the cease fire agreement and decision to open the corridor to allow the column trying to break through from Srebrenica through the woods to pass. Pandurevic signed the agreement with the commander of the BH Army forces in the area on 15 July 1995 when Pandurevic returned to Zvornik.
According to the prosecution, the decision to open the corridor was the result of Pandurevic's assessment that the column, consisting of civilians and armed BH Army members, represented a threat to Zvornik.
The defense attempted to prove that Pandurevic had not been forced to do so and that he had made the decision for other reasons. In answer to Pandurevic's defense counsel, Ristic, whose HQ in Zvornik was "attacked and set on fire" by the BH Army, confirmed that the VRS forces in Zvornik had been weak but nevertheless able to "destroy the column" passing through the corridor.
"The cease fire order was complied with", Ristic said. Ristic monitored the passage of the refugees along the corridor from the site where his command post was relocated. Their number was huge, but Ristic could not specify how many refugees from Srebrenica managed to move to the BH controlled territory until the afternoon of 17 July 1995 when the corridor was closed.